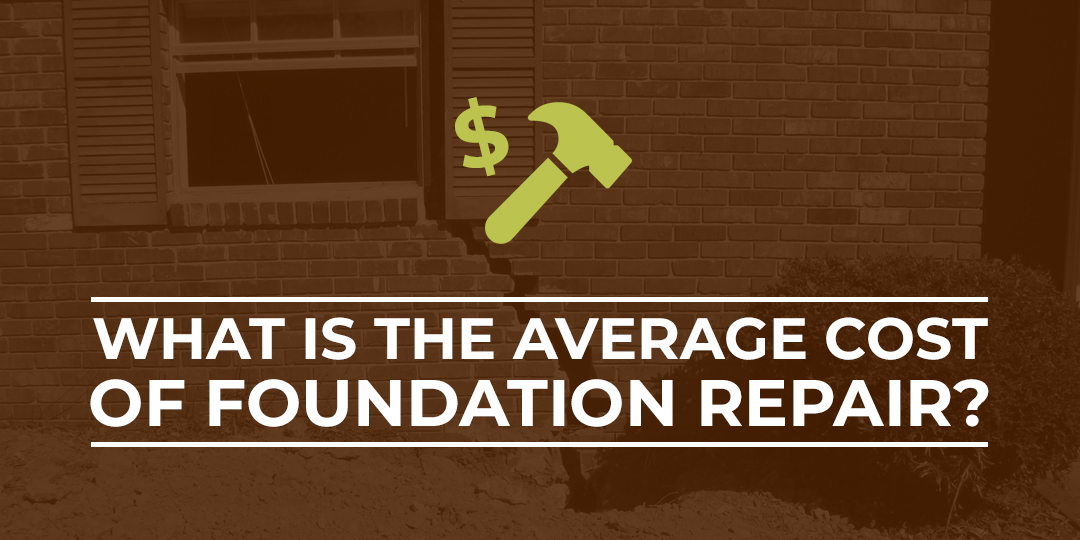 If your doors begin to stick, the floor appears to be sloping, or you spot cracking in the basement drywall, it's not always easy to determine whether it's a minor problem with an easy fix or a serious issue with the building foundation that can lead to safety problems with the whole structure if not repaired immediately.
Building foundations can develop issues for a variety of reasons that include:
Poor soil drainage
Poorly compacted soil
Plumbing leaks
Inadequate maintenance
Faulty construction
Your building's foundation is essential to the stability of your home or business, which is why problems like settling, leaking, or wall cracks need to be addressed as soon as they become apparent. They are usually less expensive to repair in the early stages and you prevent a minor issue from developing into a serious danger to building occupants. As the saying goes, "Better safe than sorry."
The average costs of foundation repair will vary depending on the nature and extent of the problem, but in this blog, we'll provide an overview of common issues, their causes, and approximate repair costs.
Foundation Crack Repair
While it's not unusual for a building to sink slightly and develop hairline fissures during the first two to three years after construction, horizontal cracks in your drywall can indicate that the building is experiencing an abnormal amount of settling.
While vertical cracks are comparatively common because drywalls run vertically, horizontal lines may indicate that the perimeter of the foundation is under a lot of pressure. If any fractures are at a 45-degree angle, it can mean that the building has undergone severe movement. In addition, as the cracks expand, water and pests can get in, further damaging an already-weakened foundation.
Repair costs for minor cracks can be as low as $250 while more serious gaps can cost around thousands, depending on the source of your foundation problems.
Settling Foundation Repair
Over time, you may notice that one side of your home or commercial building is lower than the other, or the center is starting to sink. This can be caused by differential moisture content on each side of the foundation and poorly compacted soil. Depending on where you are located, it's also possible that the building was constructed on a sinkhole.
Sinking foundations need to be leveled by raising them to their original height and reinforcing them. Two common methods are:
Piering and underpinning: This repair involves placing piers under the foundation and lifting it to its original level. Options include helical piers, which are an easily-installed solution for properties built on unstable soil, and push piers, which close cracks as they lift your property back to level. Costs can run from $1100 to $1800 per pier, depending on type used and whether they are dug by hand or machine.
Leveling and slab jacking: A grout mixture is pumped into air pockets under the foundation, floating it to its original level. Because less equipment is involved, costs can run anywhere from $500 to $1,000.
Repair costs can also vary depending on the type of structure and how much the foundation has to be raised. Raising one corner will be less expensive than lifting the whole building, and a house with a slab will have a different cost than a house with a basement.
Foundation Leak Repair
Water seepage is one of the biggest issues associated with basements. Not only can unchecked leaks damage your building foundation, it can also encourage mold growth and cause a health hazard. Foundation leaks can be caused by:
Poor draining around the building
Poorly draining window wells
Heavy precipitation saturating the soil, causing it to expand and create cracks in the wall or floors
Signs of a leak problem include:
The presence of moisture or mildew
Crumbling areas in the foundation walls
Water stains along the ceiling or baseboards
The cost of leak repair can range from $2,000 to $6,000 and up, depending on the moisture levels of the soil and quality of available drainage. The foundation has to be waterproofed to prevent moisture from seeping into the structure. Then, after the structure is secured, repair professionals will dig around the foundation to install tile drains before filling the cracks and applying a sealant.
Bowing Basement Wall Repairs
Bowing occurs when your basement walls curve inward, creating a bow shape. It can be caused by poor grading of the surrounding soil and turf, plumbing leaks, and heavy rains that create hydrostatic pressure against the walls.
Bowed basement walls are typically repaired using one of the following methods:
Wall anchor systems: These systems consist of strong, galvanized anchors embedded into sturdy soil outside the foundation wall. Each wall anchor is connected to a wall plate using a steel rod, applying a pressure that straightens a bowed wall to its original position. Anchors are placed every six to eight feet, and cost $300-$600 each.
Reinforcement strips: Reinforcement strips can cost anywhere from $350 to $1,000 per strip depending on materials used. Carbon fiber strips are a common and durable option that resists inward basement wall movement and can handle a significant amount of weight. They are applied using a high-strength epoxy resin that absorbs pressure from the wall and keeps the foundation stabilized.
Contact a Foundation Repair Professional For A Free Quote
If you notice any abnormal cracks, moisture, or settling in your home or business foundation, contact a qualified and experienced foundation repair specialist who can carry out a thorough inspection, assess the extent of the damage, and provide you with a written repair estimate.
The Denver foundation repair experts at Van Matre Construction, LLC provide property owners in and around Denver, Boulder, and Lafayette with effective and lasting foundation repair services for any issues they encounter. We combine our years of knowledge and experience with the latest technology to accurately diagnose your foundation problem and apply repairs that restore the stability of the building for years to come. For more information or to schedule an inspection and free quote, please call (720) 571-7299 or fill out a contact form.