What are helical piers?
Jump To:
Helical piers may also be known as screw piles. As both "helical" and "screw" imply, this method employs a spiral-shaped head that is literally screwed into the ground using a high-torque hydraulic motor. The screw provides a bearing surface that transfers the load from the structure to the underlying soil or rock bearing strata. The piers are screwed into the ground as needed to provide structural remediation.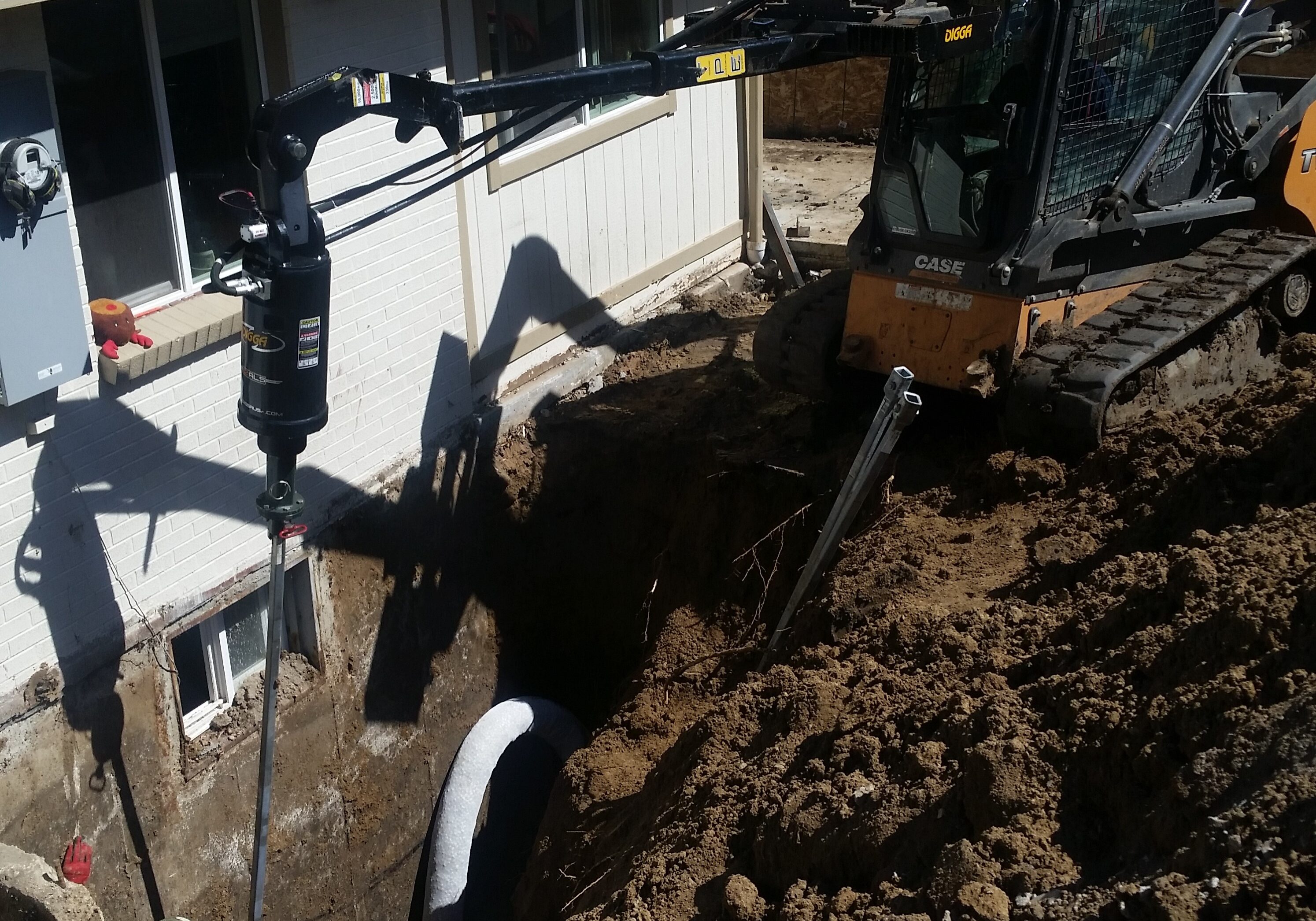 How are helical piers used in the Front Range?
Helical piers have a variety of uses, including slope stabilization and structural underpinning. In slope stabilization, the helical pier may be screwed into the slope past the poor soils and attached to a suitable retaining wall to maintain slope stability. In structural underpinning, the failed footings are exposed and helical piers are placed underneath the failed footings, which are raised to the desired elevation. Footings, building and piers are secured together using a bracket and the foundation is covered. Screw piles or helical piers installed in the Denver area are also frequently used in place of a footing or drilled caisson for the construction of a new foundation or even structural slabs.

New Construction/Additions/Decks
In many areas on the Front Range, soils near the surface can be suspect: either with poor bearing capacity or high swell/shrink potential when wetted/dried. These types of soil are not suitable for building a conventional "footing" type of foundation. Drilled concrete caissons have been used extensively in the past to drill through these layers of soil. This method has had success, but requires very large machinery to drill the caissons, can require casing of the drilled hole, pumping of groundwater and removal of the large amount of soil displaced from drilling the hole, "spoils' that must be removed using a loader. For additions, pop-tops, decks and many mountain sites, access issues make it very difficult to use drilled caissons. Due to these reasons drilling caissons can be an expensive, messy and damaging part of building a new foundation.
The same, or greater strength and stability can be achieved by using helical piers, but it is done with equipment capable of accessing much smaller spaces, creates no drilling 'spoils' and causes much less impact on landscaping. In most cases, we install our piers with a skid-steer or small rubber-tracked excavator. If conditions are too tight for that, a smaller, portable rig can be used to install piers in even smaller spaces. Helical piers also are ready to bear weight as soon as they are installed. The top of the pier is tied into the foundation using one of many ICC Certified connections, transferring the load of the structure and the foundation wall through suspect/unsuitable soil layers down to competent, dense soils or bedrock. Another benefit of helical pier installation in the Denver area is the need to only coordinate one subcontractor: no more coordinating the caisson truck, pump-truck, concrete truck, and soils engineer.
The Benefits of Helical Piers
To sum up: The helical pier foundation is preferred over driven piles, drilled shafts, grouted tendons, auger-cast piles, belled piers and other deep foundation systems for a number of compelling reasons:
Van Matre Construction provides helical pier installation services directly to Denver homeowners, building owners, general contractors and consulting engineers.
Helical Pier FAQs
What Are The Chances Of Having More Foundation Issues After Having Helical Piers Installed?
If helical piers are installed correctly by a professional foundation repair company that specializes in pier installation, then the chances of having more foundation issues down the road is slim to none. That is precisely why choosing the right company to install piers with is so important.
How Deep Can Helical Piers Be Installed?
On average, piers are installed 10 to 25 feet below soil, but the depth can range depending on the ground conditions, as the required torque must be met. Some piles can be installed as deep as 100 feet below the soil to secure the foundation.
Will The Interior Of My House Be Damaged After Installation?
In most cases, the interior of your house will not be damaged by the helical pier installation process. In fact, it tends to be the opposite. Some cracks may close and doors may start to work properly again after installation. If there are any concerns regarding installation, your contractor will let you know.
Will Installation Impact My Yard & Landscaping?
Disruption of the yard is usually very minimal during the installation process due to the fact that installing entails digging small 3'x3' holes. Some landscaping may need to be removed to gain adequate access to the areas of installation. If that is the case, we will let you know before performing any removal.
Can Helical Piers Be Installed In Tight Spaces?
Yes, when there are clearance issues, it is possible to use portable equipment to install piers as opposed to the heavier equipment that would normally be used.
How Long Do Helical Piers Last For?
Helical piers are galvanized with the latest galvanizing technology to protect them from rust and corrosion. In most soils, Helical piers can last for well over 150 years. However, soil conditions can affect life expectancy.

If your windows or doors used to open and close easily and are now tight or rubbing, you could be experiencing foundation movement.
Call Van Matre Construction for a free assessment.
If you have foundation repair questions or would like to a
free assessment, complete the below contact form.