Engineered Solutions for House Foundation Repairs
Foundation issues with your home should be addressed as soon as possible. Whether it's a visible crack on the wall or an unseen structural threat, you should get the issue fixed to prevent bigger and more expensive issues in the future.
Van Matre Construction aims to help you ensure your home's safety and preserve its value.
We offer a customized house foundation repair for problems arising from vertical movement, horizontal movement, and wet basements. The Van Matre Construction team has the experience and expertise that allows us to deliver cost-effective solutions to the specific foundation problem of your home.
And in certain areas of Colorado, issues with foundation systems can arise in both old and new homes.
What Caused Your Foundation Problem?
In Colorado, foundation issues can be caused by a number of reasons including expansive soils and drastic changes in weather conditions. Changes in soil moisture content has caused foundation issues throughout the Front Range. The result is foundation settlement as well as powerful horizontal movement that can pressure your foundation to bow in.
The expansive soil affects most of Front Range and the Eastern Plains, but it's common enough in the state that you need to look out for trademark signs of swelling soil.
Recently built homes can suffer from structural problems, too. A combination of vertical movement, poor foundation maintenance, and concrete weakness can compromise even the best-built foundations. Poor drainage and pest infestations can also undo a good foundation.
The environment can further affect the foundation to a limited or large extent. Frost heave and frost lensing, which are products of cold climate, can push in on a foundation or lift a foundation wall. In the summer, soil loses moisture causing earth to pull away from the foundation.
These signs are typically common among properties with structural damage. Whether you're looking for a new house or inspecting your own, these are visual cues to call for professional house crack repair: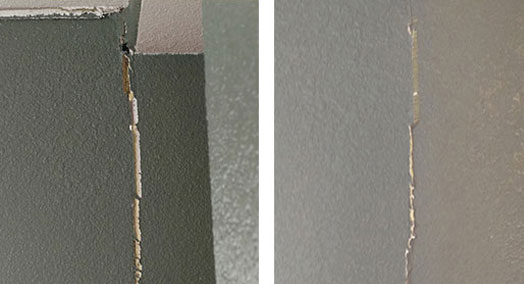 When a house's foundation settles, the framing moves with it. Drywall and plaster quickly crack with very little foundation movement and can give an indication of how a house's foundation is moving. These cracks commonly show up at the corners of rooms, windows, or doorways. If it is a new home, and you see a few hair-line cracks, this is typically indicative of normal drying of lumber and is nothing to worry about, however the crack should be monitored. If the home is more than a few years old and cracks are growing larger, this can be a sign of foundation movement.

Brick and other masonry quickly shows the affects of movement. Masonry's rigid nature, relatively weak shear strength/mortar bond will quickly alert you if your foundation is moving. If your home has brick, look for stair-step cracks, vertical cracks, or where the brick appears to be pulling away from the wall. Hairline cracks typically do not require immediate action but should be carefully monitored for future movement. If the cracks are bigger than 1/8", or seem to be growing, you should contact VMC for a free assessment.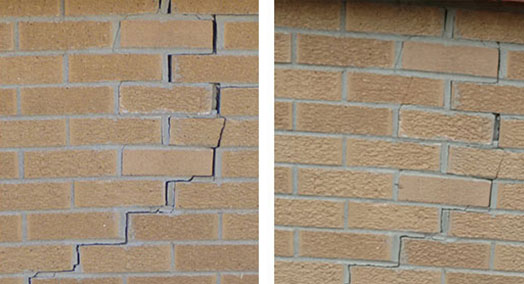 It is important to distinguish between framed floors and concrete floors poured on grade: If your framed floor is out of level to the point where you notice it, it could be due to vertical foundation movement and you should call us for a free assessment.
In Colorado, many homes were built with slab-on-grade basement floors: these floors are concrete poured directly on top of the basement soil and the slabs tend to be independent of the foundation. If your slab is moving a little, that is to be expected.


If your windows or doors used to open and close easily and are now tight or rubbing, you could be experiencing foundation movement. Contact Van Matre Construction for a free assessment.
If your windows or doors used to open and close easily and are now tight or rubbing,you could be experiencing foundation movement.
Call Van Matre Construction for a free assessment.