Engineered Solutions for House Foundation Repairs
Jump To:
Foundation issues should be addressed as soon as possible. Whether it's visibly cracking drywall or brick in your Denver home- or an unseen structural threat- you should have the issue fixed to prevent bigger and more expensive problems in the future.
The Denver foundation repair contractors at Van Matre Construction aim to ensure your home's safety and preserve its value.
Foundation settlement and cracking can lead to major structural problems that a DIY approach just can't fix. Surface distortion or severe cracking in the drywall and brick of your Denver home requires a skilled foundation repair contractor. These professionals will come up with a cost-effective solution for you.
The foundation repair contractors in Denver at Van Matre Construction, LLC have extensive experience helping Colorado residents strengthen their homes. We address the problems that arise from issues, such as vertical movement, horizontal movement, and wet basements. Our team has fixed old and new homes in Denver, making them a safe and stable place to live in.
What Causes Cracks in Your Concrete Walls?
The unpredictable weather in Colorado — which include the frequency of storms and earthquakes — and the presence of expansive soil make the state's properties more susceptible to foundational cracks.
The soil often affects areas like Front Range and Eastern Plains, causing problems like settlement and horizontal movement to crop up in Denver homes. These issues could, in turn, put pressure on your foundation. As a Colorado homeowner, you need to keep an eye out for expansive soil in areas like the driveway, interior walls, and basement floor.
Environmental conditions can, furthermore, weaken the structure of your home. These include frost heaving and lensing — the by-products of cold climate — that could put a strain on your foundation. These events would necessitate house foundation crack repairs. In a similar vein, the intense summer heat could also dry out the soil around your home and weaken its walls.
More than Just the Weather and Soil
Weather and soil conditions are not the only things that could cause cracking drywall or brick in your Denver home. Recently built homes can suffer from structural problems, too. Factors, such as poor drainage, unstable concrete, pest infestations, vertical movement problems, and a lack of maintenance, can all contribute and cause your basement and foundation to crack.
Keep an eye out for these telltale signs of structural damage. Whether you plan to buy a new home or are inspecting your own, here are some red flags that point to the need for professional house crack repairs: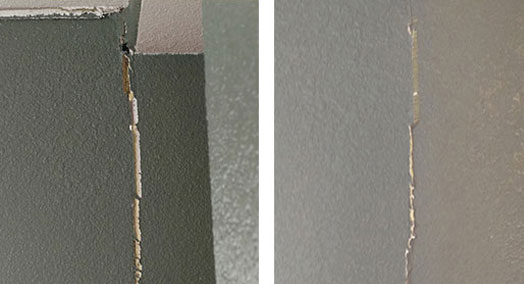 When a house's foundation settles, the framing moves with it. Drywall and plaster quickly crack with very little foundation movement and can give an indication of how a house's foundation is moving. These cracks commonly show up at the corners of rooms, windows, or doorways. If it is a new home, and you see a few hair-line cracks, this is typically indicative of normal drying of lumber and is nothing to worry about, however the crack should be monitored. If the home is more than a few years old and cracks are growing larger, this can be a sign of foundation movement.

Brick and other masonry quickly show the effects of movement. Masonry's rigid nature, and relatively weak shear strength/mortar bond will quickly alert you if your foundation is moving. If your home has brick, look for stair-step cracks, vertical cracks, or where the brick appears to be pulling away from the wall. Hairline cracks typically do not require immediate action but should be carefully monitored for future movement. If the cracks are bigger than 1/8", or seem to be growing, you should contact one of our Denver foundation repair contractors from Van Matre Construction for a free assessment.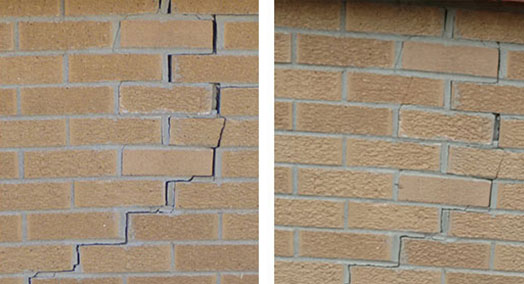 It is important to distinguish between framed floors and concrete floors poured on grade: If your framed floor is out of level to the point where you notice it, it could be due to vertical foundation movement and you should call us for a free assessment.
In Colorado, many homes were built with slab-on-grade basement floors: these floors are concrete poured directly on top of the basement soil and the slabs tend to be independent of the foundation. If your slab is moving a little, that is to be expected.


If your windows or doors used to open and close easily and are now tight or rubbing, you could be experiencing foundation movement.
If you notice any of these classic signs of underlying foundation damage such as floor sloping, sticking windows and doors cracking, or cracking drywall and brick in your Denver home, contact a foundation repair contractor from Van Matre Construction for a free assessment.
If your windows or doors used to open and close easily and are now tight or rubbing,you could be experiencing foundation movement.
Call Van Matre Construction for a free assessment.
If you have foundation repair questions or would like to a
free assessment, complete the below contact form.