Boulder Helical Pile Installer
What are helical piers?
Often also referred to as screw piles, helical piers are tools that are designed to screw directly into the ground through the use of a high-torque hydraulic motor. The screws involved in this method are a popular choice for foundation repair because they are meant to transfer the weight from the structure itself to the hard soil and/or rock that surrounds and lies under the building.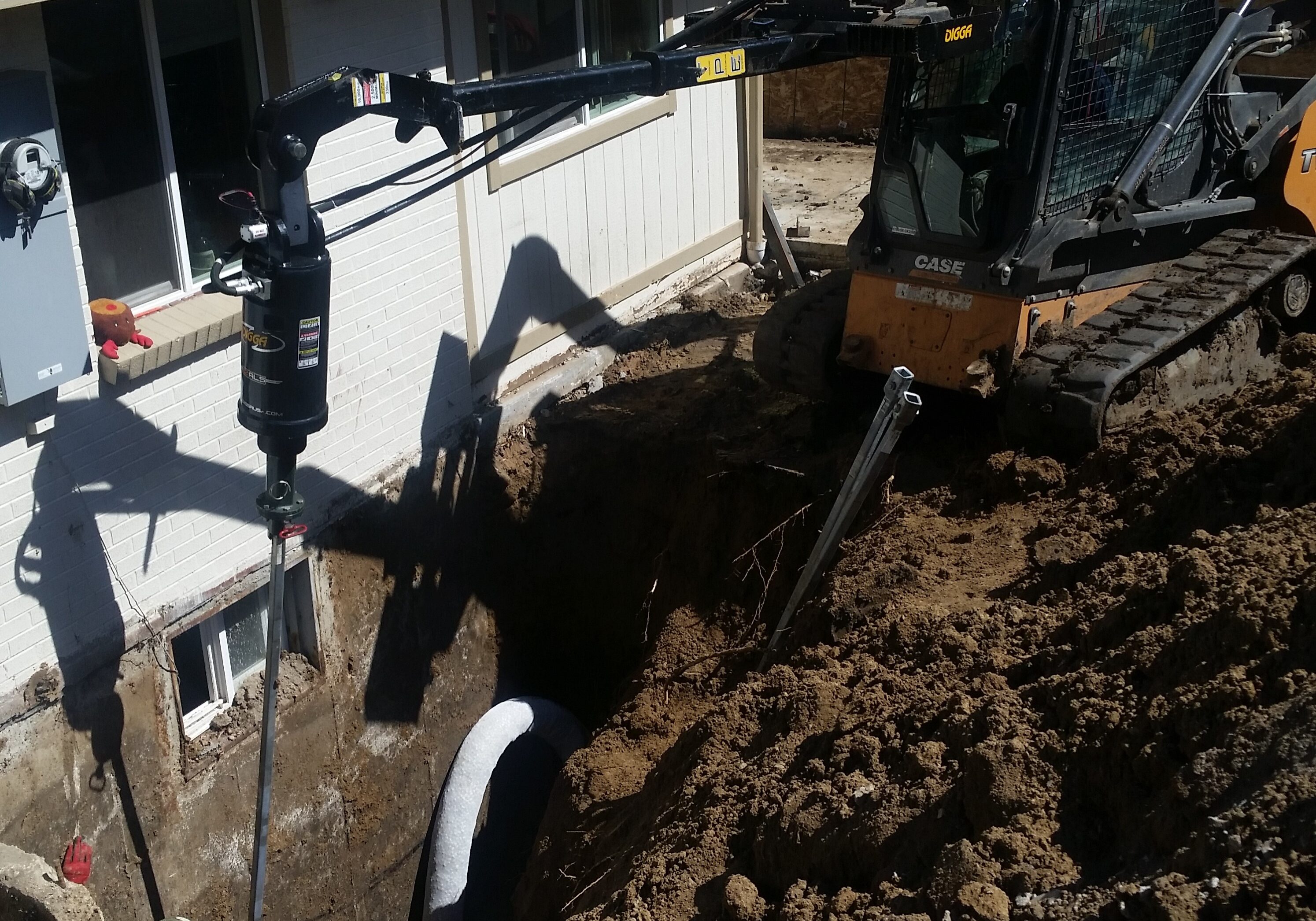 Helical piers are an incredibly versatile tool that can be used to yield results in slope stabilization and structural underpinning. When used for slope stabilization, helical piers are typically screwed directly through the softer soil on the slope into dense, moisture stable soils deep under the surface. Once the helix is embedded into immovable soil, the stem can be attached to a retaining wall or other solid structure. When used for structural underpinning, the helical piers are placed beneath the failing footings in order to immediately address the problematic areas of the foundation. This method then brings the structure to the intended height. In both of these methods, the footings, structure, and piers are securely fastened through the use of brackets.
Helical piers can also be a great choice for addition or deck foundations. They can quickly be installed through the upper, less stable, soils into dense stable soil deep below the surface. They are ready to hold load immediately after installation and require no concrete, concrete pump, or cleanup.

Our great region of the Front Range is unfortunately susceptible to weak soil. This makes it unsuitable for load bearing and vulnerable to significant movement when combined with high winds, heat, and moisture. These characteristics of soil are less than ideal for traditional footings and their correlated foundations. Luckily, this type of environment is exactly where helical piers thrive. They can provide equivalent or even greater strength to structures and foundations and are also more convenient to install, due to their small size and ability to be applied in a variety of locations. One of the other great characteristics of helical piers is that they are immediately ready to bear weight upon installation, making the waiting period post-installation as minimal as possible.
If you would like to learn more about how Van Matre Construction uses helical piers for foundation repair in the Boulder area, or you would like a free quote, contact us today!
If your windows or doors used to open and close easily and are now tight or rubbing, you could be experiencing foundation movement.
Call Van Matre Construction for a free assessment.
If you have foundation repair questions or would like to a
free assessment, complete the below contact form.