Make Us Your Preferred Grading and Drainage Contractor
Grading and drainage are two of the most important aspects of landscape design, installation, and maintenance. Proper grading is vital to keeping both your hardscape and landscape in good condition for years to come. If your yard has insufficient grading, water will accumulate and flood your lawn during a rainstorm. Conversely, too much grading on your home will force the water to drain too quickly. Your plants will have a difficult time getting the water they need to survive.
Besides adequate grading, your home should have a working drainage system. The whole property will sustain damage if the drainage in the yard is either non-existent or insufficient. Pools of water that build up in your landscape can erode the soil, attract mosquitoes and other pests in your backyard, and damage trees and tree roots. Water that pools near the foundation of your home will cause water and structural damage. Once water damage occurs, mold and mildew may form in your home and cause health problems.
When you need a grading and drainage contractor that can install these two landscaping elements, turn to Van Matre Construction, LLC. We offer a range of drainage solutions that naturally drain away precipitation from your home. Whether you need an interior drain, an exterior drain, or a French surface drain, you can count on us to complete the project on schedule and within budget.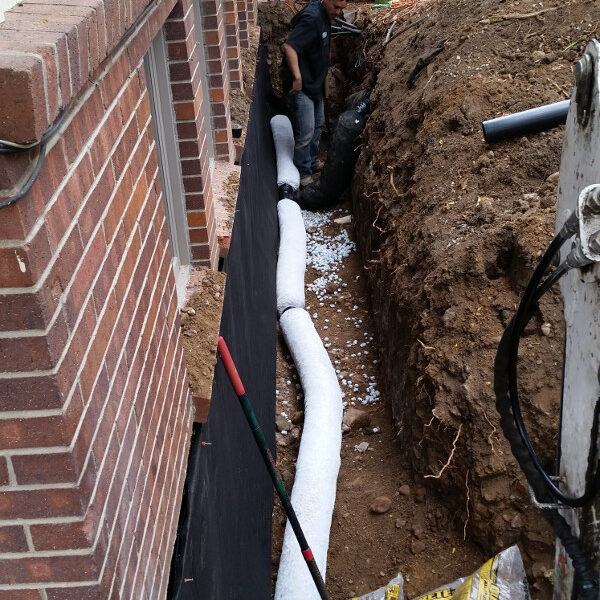 If you have issues with a wet basement or crawlspace, and your exterior grading is in good shape, a foundation drain may be the solution you need. A foundation drain may be placed inside or outside your foundation, allowing ground water to collect in the horizontal drain, flow to a sump pit, and be pumped safely away from the home.

The worst part about an exterior foundation drain is the disruption to landscaping. The installation requires excavation of the exterior of the foundation to the base of the footings (or wall if it is poured on drilled caissons). Once the wall is excavated, we clean the wall, inspecting for cracks that may need attention. Van Matre Construction uses only the highest quality materials: While other companies spray the wall with asphalt, we cover the wall with Cetco brand AquaDrain . The solid plastic backing ensures no water will make it to your foundation, the dimples give a clear path for water to fall to the horizontal drain at the base, and the geo-textile fabric adhered to the face ensure that the product will not clog with mud. This quickly takes water to the base of the drain system. At the base, Van Matre installs a perforated pipe, wrapped in geo-textile fabric, surrounded by a foot of gravel, and again wrapped in geo-textile fabric. The base drain slopes gently downhill to a sump pit where a high-quality cast-iron pump removes the water-pumping it away from your home.

An interior foundation drain is placed just inside the foundation wall and footing, beneath the basement floor slab. An interior drain spares your landscaping, but does not allow for waterproofing of the exterior of the foundation wall. The foot wide swath of floor slab is cut and removed around the perimeter of the basement, and the underlying soil removed to the base of the footing, usually about 8"-10" from the base of the floor slab. Similar to the drain at the base of the exterior drain, a perforated pipe wrapped in geo-textile fabric is surrounded by gravel and wrapped in another layer of geo-textile fabric. The pipe slopes gently downhill to a sump pit where a high-quality cast-iron pump removes the water, pumping it away from your home. The floor slab is patched and the job is complete.

French Drain/Cut-off Drains
Sometimes the drainage issue is not next to your foundation, but with a low spot in your landscaping collecting and holding water.  If the topography makes gravity drainage impossible, a French drain or a cut-off drain may be what you need.  A landscape drain's anatomy is conceptually very similar to that of an interior drain, but may also incorporate drain inlet boxes, trench drains across hardscapes, larger diameter pipes, and other variations on the theme.  Whenever possible, we like a landscape drain to discharge via gravity, but if that is not possible, an exterior pump pit may be necessary.
A French drain is also an effective solution for homes with chronic water drainage problems. Your property will benefit from a rubble drain if your basement floods regularly, or if you find that your soil is often soggy.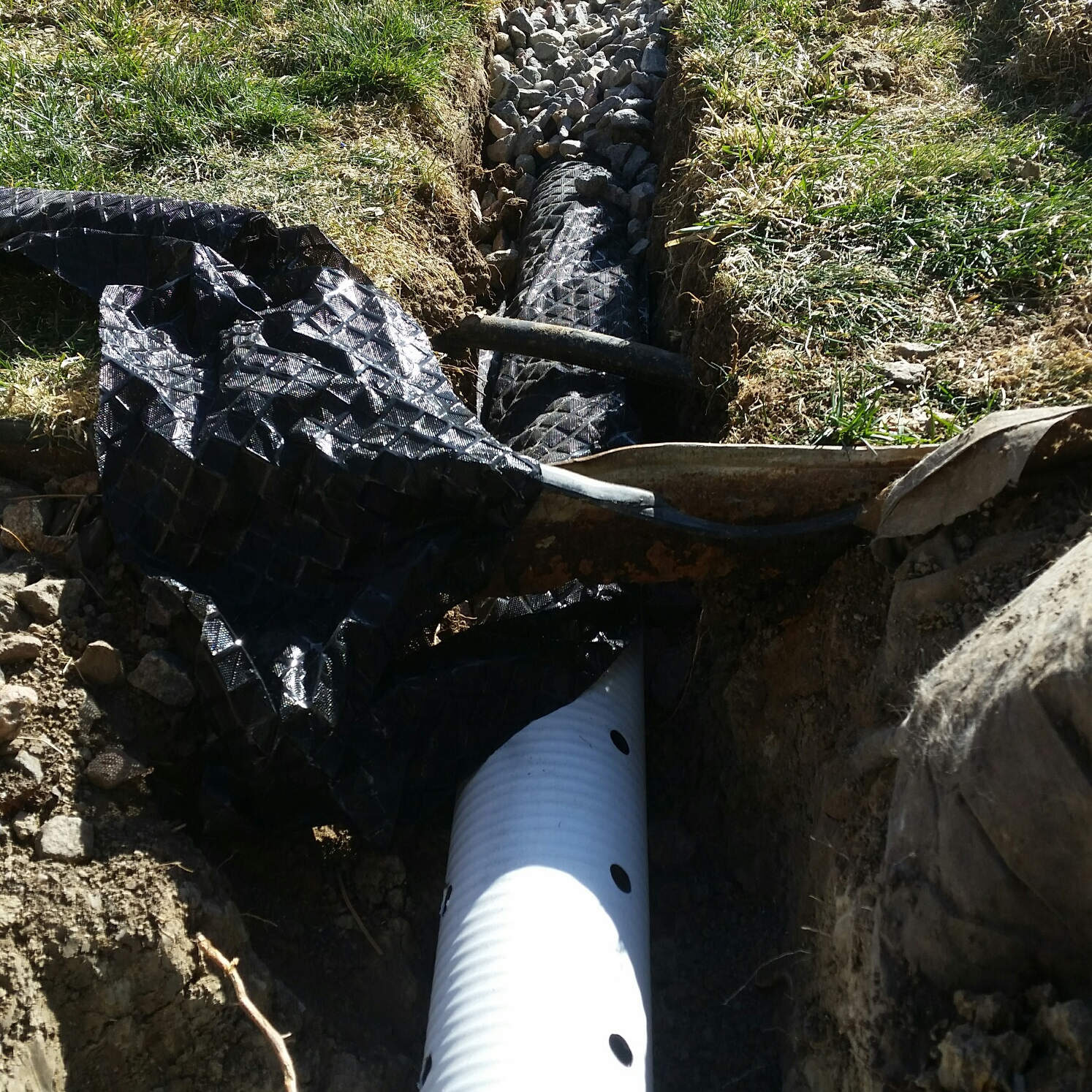 If your windows or doors used to open and close easily and are now tight or rubbing,you could be experiencing foundation movement.
Call Van Matre Construction for a free assessment.