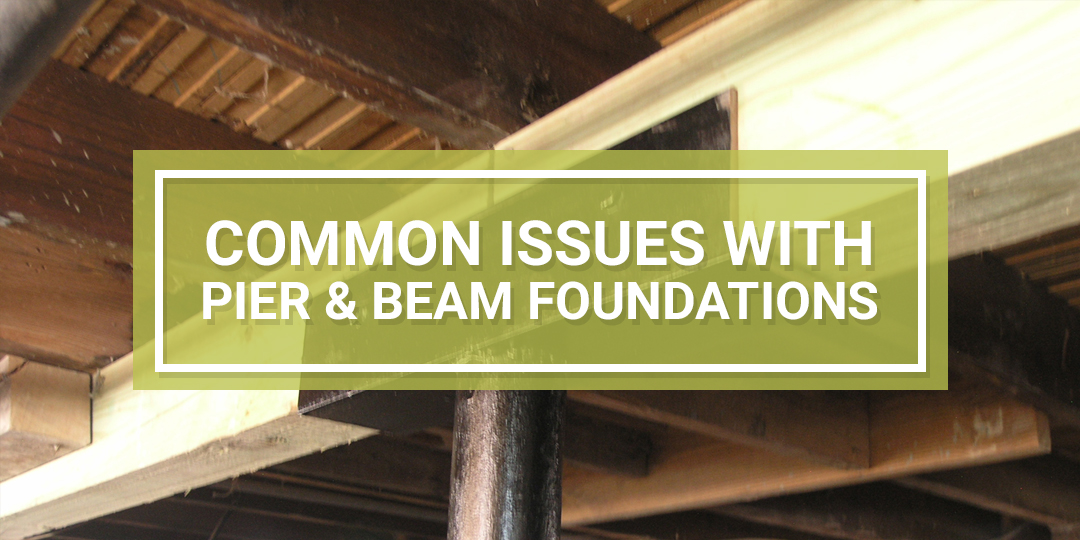 Back before slab foundations became the norm, homes were lifted in place by pier and beam arrangements made from treated lumber and elevated atop blocks or piers.
The beams, which run parallel the length of the house, can be spaced up to 12' apart while the joists, which are perpendicular, are typically spaced around 18" apart. Both are topped by a subfloor. This wooden underlay is raised and supported by a concrete beam, drilled concrete piers, pad and blocks, sonotubes, or a combination of these systems.
Today pier and beam foundations aren't as common, but continue to be used in areas that get a lot of rain or are prone to flooding, as their crawl spaces make it easier to access plumbing and electrical systems if problems arise. Pier and beam foundations also tend to have fewer problems and can be easier to repair.
Despite these advantages, there are some common issues with pier and beam foundations. In this blog, the foundation repair specialists at Van Matre Construction, LLC will go over what they are and what we can do to help restore stability and comfort to your home.
Dipping and sagging floors
As your home settles into the soil, the piers holding it up can sink unevenly and shift, causing your floors to sag and be uneven. Sometimes the deformation is readily apparent (dramatic declines, warped doors and chimneys) while in other instances, something just feels 'off' when you walk through the home. A foundation repair company can install shims and other supports to make everything level once more.
Another pier and beam issue that can affect floor levels is pier collapse. With older homes, it isn't unusual for piers to lean to one side or collapse, especially if lower quality materials were used to construct them. The normal solution is to shim and stabilize affected piers, but depending on their condition, they may need to be replaced.
Cracking piers
Concrete piers can crack due to age or issues in the surrounding environment. If you notice cracking and other signs that collapse may be in progress, arrange for an inspection as soon as possible. If you live in or around Denver, Boulder, and Lafayette, Van Matre Construction, LLC can adjust your piers or replace them if necessary.
Decaying beams
Wooden beams can decay if they are older or have been exposed to moisture, flooding, or an insect infestation. When this happens, they will need to be removed and replaced, because once rotting sets in, there is no way to reverse it and the home could become unstable.
Shim failure
Sometimes, contractors try to cut repair costs by installing wooden shims to correct a pier and beam foundation issue. When this wood decays over time, the original condition can come back. In other cases, problems with the installation can lead to shim failure. Whatever the cause, you will need to call for pier and beam foundation repair service to replace the shims before the foundation is further affected.
Mold and mildew
Mold and mildew in your crawl space is more than just an eyesore. It can be a sign of problems due to moisture ingress. If water works its way into the wooden beams and joists under the home, it can rot the wood and cause mold and mildew to flourish. A company that specializes in crawl space repairs can replace any damaged wood and fortify your foundation.
Contact a Colorado foundation repair specialist today
When your pier and beam foundation is unstable, Van Matre Construction, LLC can lift and stabilize it using underpinning solutions such as:
Push piers: Also known as resistance piers, push piers are a recommended approach for correcting a sinking or settling foundation all year round. They use high-strength steel tube sections and a load transfer bracket that goes all the way to the bedrock, allowing them to lift your home with minimal disturbance.
Helical piers: Helical piers look like large screws. They are individually installed into the ground and load tested before being used to lift and stabilize your home. Like push piers, they install below active soils and can be applied in any weather condition.
At Van Matre Construction, LLC, we have been assisting homeowners with foundation repair services since 2001. Whether your foundation is pier and beam or slab, our customized approach to inspection and repair will solve your structure issues and preserve the value of your property. For more information or to schedule a no-obligation estimate, please call 303-668-2222 or contact us online.