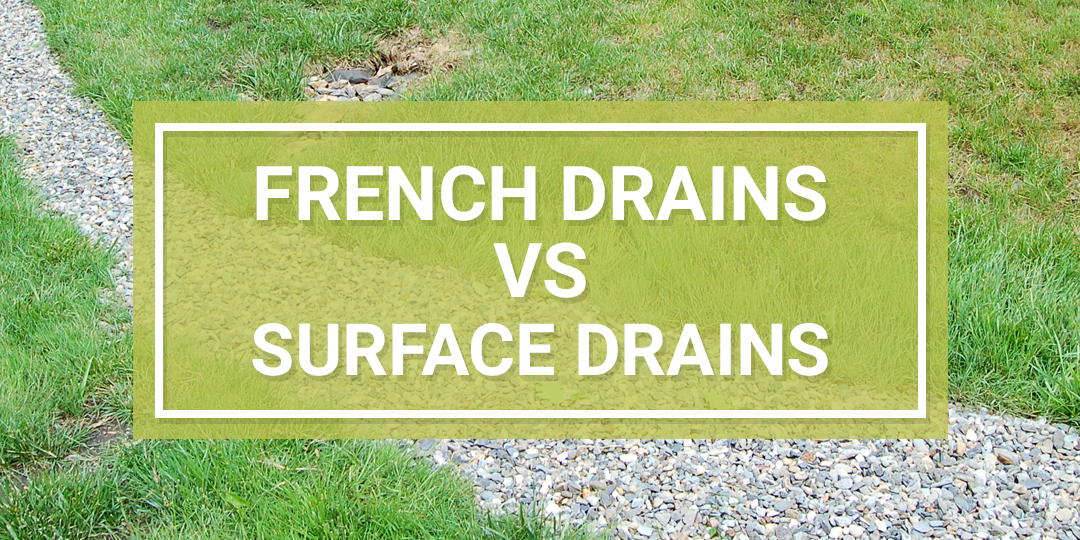 When your foundation is being compromised by drainage issues, a repair specialist will usually recommend using a French drain (also known as a rubble drain) or surface drain to correct the problem.
The primary difference between the two systems is that French drains are used for water that is gradually seeping below ground level while surface drains handle water that's collecting above the ground. Their installation methods and materials also vary. In this blog, the team at Van Matre Construction, LLC provides an overview of both drainage systems and their recommended applications.
French drains vs surface drains: purpose
The main purpose of a French drain is to drain excess water from your garden and the area around your foundation, so that it doesn't get under your home. (If groundwater manages to get under a slab foundation, it can cause heaving.) If your soil is prone to oversaturation from heavy rain or flooding, this type of drain will efficiently channel away any water trapped in the ground.
Surface drains are used to collect and move away large volumes of water in a short amount of time. They are frequently installed in sloped surfaces like showers and driveways to catch surplus water runoff and drain it away before it can collect and cause serious damage. If the area around your home has drainage issues (for example, water collects within around four feet of the foundation after a rainfall), a surface drain can prevent it from causing stress to the structure.
French drains vs surface drains: design and layout
French drain designs have evolved over the years. Today, they are installed by digging a trench, laying a perforated PVC pipe, placing a permeable wrap around it, and covering it with gravel. They protect your lawn from erosion while flushing away any toxic substances and ensuring that your plants, grass, and soil have access to the moisture needed to stay healthy.
In comparison, surface drains have a metal grating that is flush with the surface and a flexible PVC pipe. They are easy to install and, being made of metal, they resist breakage and corrosion. Unlike French drains, they can be applied in garages and other concrete areas where water accumulation is a problem. 
Which drainage system is better?
French drains are the best solution for removing water from over-saturated soil. If you experience any of the following, contact a foundation repair specialist who can install a French drain before the situation damages your foundation:
Puddles appear on your lawn every time it rains

You have big pools of standing water on the property after a thunderstorm

You notice water in your basement after a heavy downpour
While a French drain can prevent water from accumulating against your foundation wall, they are not as effective for removing high volumes of water in a short amount of time, so they can experience issues in high rainfall or flooding conditions. 
Surface drains remove large amounts of water quickly. If your yard slopes toward your foundation, a surface drainage system can help ensure that water does not collect against the wall and lead to soil movement, moisture ingress, and other complications that can eventually make the home unstable.
What happens when water accumulates?
If you have water pooling around the base of your home, call a foundation repair specialist immediately. Unless a drainage system is put in place, the following complications may arise:
Pressure buildup:

When water builds up during and after storms or flooding, it applies pressure to the foundation. When this moisture dries, that pressure disappears, but the back-and-forth movement can make the home shift, resulting in increased stress on the substructure.
Water infiltration:

Water that collects against the foundation walls can seep into any existing crevices or cracks in the cement. Depending on the condition of your walls, you may notice a general dampness or water pooling on the floor. Over time, this moisture can freeze and thaw in a cyclical manner, causing the cracks to expand and let more water in.
Settling:

When the foundation is compromised, it can cause the house to settle. If the doors and windows start sticking, cracks appear in the walls or above window frames, and the floors are uneven, your house may be dealing with a serious moisture ingress issue. When this happens,

helical piers

,

push piers

, and/or other types of

foundation repair

may be necessary.
Interior damage:

Water build-up leads to interior damage as well as exterior. If it gets through the foundation and soaks through to the upper floors, it can destroy laminate, tile, and hardwood flooring as well as your walls and baseboards. Other signs of moisture infiltration include peeling wallpaper and damp, spongey carpeting.
Mold growth:

Dark and wet surroundings are conducive to mold growth. Once it appears, mold can spread quickly, causing health issues for your family and making the home uninhabitable. If your basement starts smelling especially musty, investigate further.
All of these outcomes will decrease the value of the property, create a health hazard, and lead to an expensive repair bill. Water build-up on your lawn or anywhere near your home should always result in a call for professional assessment and correction.
Contact a Colorado foundation repair specialist today
Identifying the right drainage system can prevent water from pooling along your foundation, finding its way inside, and collecting in your basement or crawl space. Whether you need a French or surface drain will depend on factors that are best reviewed by an experienced professional.
At Van Matre Construction, LLC, our skilled team of home foundation contractors can install a wide range of drainage system types. We will review the condition of your home and landscaping before presenting the best solution. Once you approve the estimate, we will use super-quality equipment and materials to construct a drainage system that eliminates your excess water issues. We serve homeowners in and around Denver, Boulder, and Lafayette, so please call 303-668-2222 or contact us online.