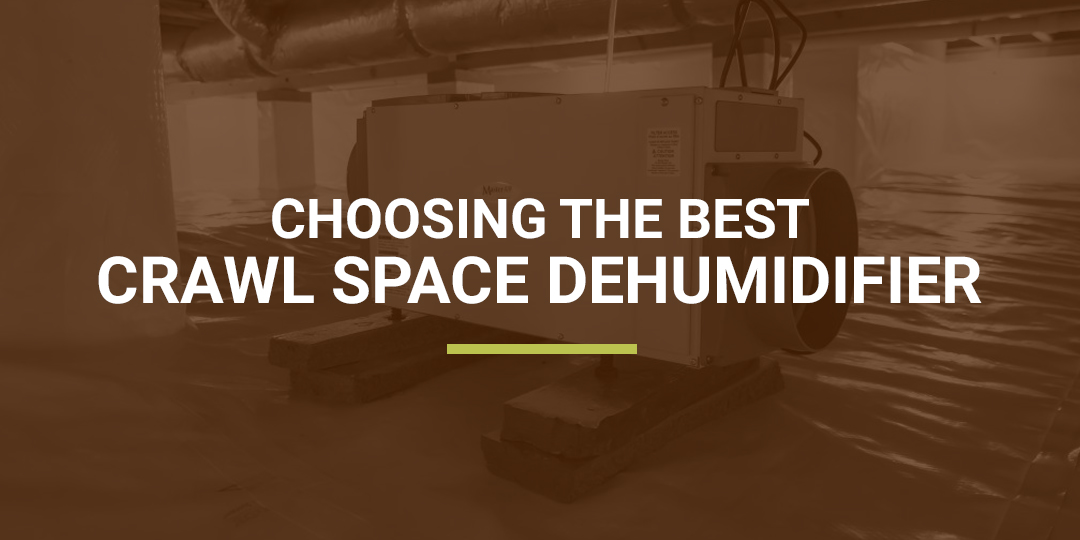 Basement crawl spaces are below grade, so you may assume that moisture is normal. Doesn't the ground usually get wet during certain seasons and after a heavy rainfall, only to dry out eventually and with little harm done?
Unfortunately, water that seeps in from the surrounding soil does not always evaporate swiftly. Water buildup can also be due to a plumbing leak or condensation dripping from cold surfaces like air ducts. Whatever the reason, it can affect the integrity of your entire home. 
How can you tell if you have a moisture problem in your crawl space?
The first signs of water infiltration include musty, dank odors and damage to any items stored in the space. While this is bad enough, the moisture will eventually work its way upwards through the air and the walls and cause the following issues:
Higher relative humidity levels throughout the house

Warped and sagging floorboards

Rotting in the wooden support beams

Mold and mildew outbreaks on the walls

Peeling paper and paint on the walls

Damaged electrical connections (which present a fire risk)

Corrosion in metal appliances like water heaters and furnaces

Insect infestations in the bathroom or kitchen
When this happens, you should invest in a basement crawl space dehumidifier that can eliminate high humidity in close and challenging environments. In this blog, the professionals at Van Matre Construction, LLC outline the factors you need to consider when choosing the best solution for your home.
Choosing the right capacity dehumidifier 
When shopping for a dehumidifier, the first thing you have to determine is the size of the space that you need to treat. 
Residential units are generally available in capacities of 30, 50, or 70 pints, with these numbers indicating how much water they can remove from the surrounding environment over a 24-hour period. Energy Star has published the following general guidelines for correlating room space and unit capacity:
For rooms that are

slightly to moderately damp

(50-75% relative humidity), recommended capacity range is 20-30 pints per day for rooms under 2,000 square feet. Larger rooms have a recommended capacity range of over 30 pints. 

For

very damp

rooms (75-90% relative humidity, with damp spots on walls and floors), crawl spaces up to 2,000 square feet will need a unit with a capacity range of 25-40 pints per day. Larger rooms will need a minimum of 40 pints.

For

wet

rooms (90-100% relative humidity, with wet walls, floors, or seepage), areas up to 2,000 square feet require a capacity range of 30-50 pints while larger spaces need over 50 pints.
These guidelines are ideal starting points, but your actual needs could vary, especially if your home is located in a humid climate or known for its wet weather. If this is the case, you will need a dehumidifier with the durability and strength to eliminate moisture in places where there are few natural drying effects. 
Important basement crawl space dehumidifier features
Once you have confirmed the ideal capacity size, pay close attention to each dehumidifier's features. The newest and most effective models generally include the following:
Hygrometer:

This instrument measures current humidity levels. You use it to monitor the unit's daily performance once it has been set up.
Adjustable humidistat:

You can set the unit to reach a recommended relative humidity level (30-40% is standard). Once that target has been reached, the humidistat will shut off.
Constant drainage:

Some units come with a water collection tank, and the dehumidifier will automatically shut off when it is full to prevent overflow. Other units will empty into the closest drain through a hose attached at the back, a process called continuous gravity discharge. This type is often recommended for crawl spaces, where access after installation can be difficult.
Internal condensate pump:

Another constant drainage option, this one manually ejects water using a pump, so it can be drained anywhere, like a sink or a floor drain.
Air purification system:

Many systems include an air purification system with a removable filter. The ability to change filters supports good indoor air quality, which is a key consideration given that air from the crawl space tends to rise into the rooms above.
Auto-defrost:

If you live in an area where temperatures are cooler, you want a dehumidifier with auto-defrost components. They prevent frost from building up on the compressor coils and impeding performance.
Maintaining your dehumidifier
Dehumidifier maintenance is fairly basic. Routine steps include:
Replacing the air filter as it becomes dirty or clogged, to maintain clean air and efficient operation.

Cleaning the water tank frequently if your system does not use continuous drainage.

Wiping the control panel down with a cloth. Avoid getting it wet.

Checking the condenser coils for frost or ice. If your system does not have an auto-defrost feature and temperatures are too cool, icy buildup can offer and cause the dehumidifier to malfunction.
Do you have a problem with your foundation?
Regardless of how well your new crawl space dehumidifier performs, it should not be treated as a band-aid solution for a damaged foundation. Unwanted water ingress is often due to cracks in the crawl space wall, so have it inspected for signs of structural damage. 
If the problem is extensive, a foundation repair specialist may recommend crawl space encapsulation with a high-performance vapor barrier that can keep moisture penetration at bay, impede mold growth, and improve indoor air quality.
Contact a crawl space repair specialist today
At Van Matre Construction, LLC, we have been helping homeowners in Denver, Boulder, and Lafayette solve their foundation problems since 2001. When your home's crawl space appears to have a chronic moisture issue, we can quickly identify the source, execute any necessary repairs, and recommend the right-size dehumidifier to prevent further damage. We offer crawl space repair services at a competitive price, and are pleased to provide a free, no-obligation estimate. For more information, please call 303-668-2222 or contact us online.