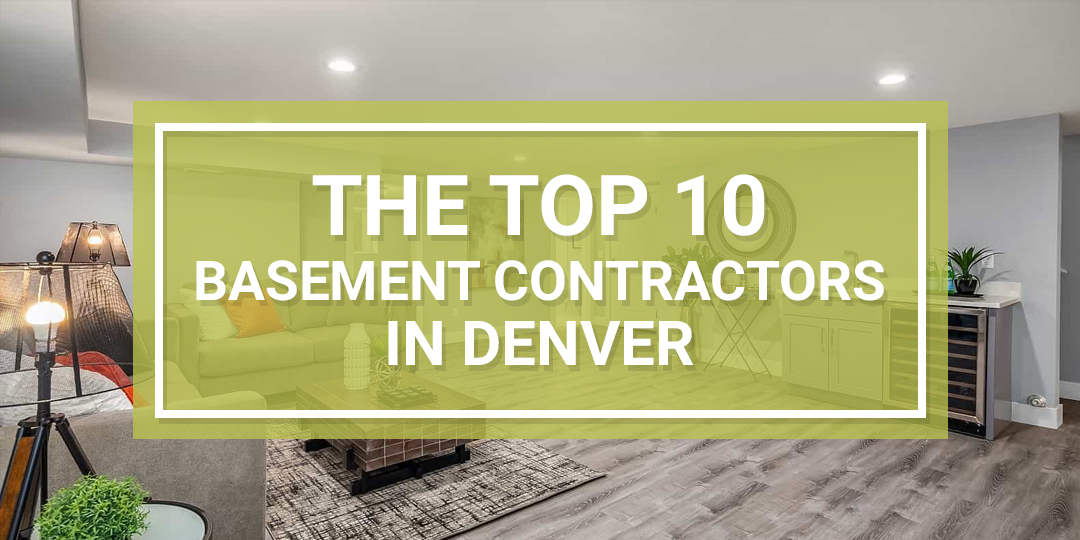 As foundation repair contractors, we at Van Matre Construction, LLC spend a lot of time in basements. We've been in basements that were magnificently finished and we've been in basements that weren't so magnificent. 
We know basements are an important part of the home. It's where many of us go to relax, entertain guests, work, and more. Your basement remodel belongs in good hands and we've witnessed the work of many different basement contractors in the Denver area since 2001. We've taken our experiences and combined them with the experiences of clients to create a list of the top 10 basement remodeling contractors in Denver. 
Why Work With A Contractor For Your Basement Remodel? 
Finishing or remodeling a basement is no simple task. You may be able to learn DIY techniques off of YouTube in a fairly short amount of time, however the amount of time it would take you to research local building permits and codes and perform the work would be considerable.
Even if you had the time required to dedicate to your basement project, you could ultimately end up doing more harm than good if you don't take important precautions. Did you know that any lumber touching the floor needs to be treated to prevent wood rot? Did you know that walls you build in your basement should be floating to give your foundation room to heave? A knowledgeable basement contractor knows to avoid common pitfalls that doom remodel projects so that you end up with a beautiful basement that will stand the test of time. 
If done right, a well-finished basement will provide a return on investment of 70-75%. Thus, working with a contractor is a great financial investment. You'll save time, you'll avoid costly mistakes and safety hazards, and you'll recoup a significant portion of the costs on resale. If you're interested in getting quotes from basement contractors, our top 10 list can be found below. 
Our Top 10 Basement Contractors In Denver, CO
1) FBC Remodel
Website: fbcremodel.com
Address: 1205 S. Platte River Drive Suite GL 100, Denver, CO 80223
Phone: (303) 227-3636
The first line of text on the homepage of FBC's website proclaims that they build joy and that is exactly what they do. FBC can take your cold basement and turn it into a warm and inviting space that will inspire joy for friends and family. FBC has been recognized time and time again for their craftsmanship and the quality of their work shows in the overwhelmingly positive feedback from past clients. 
2) Vista Remodeling, LLC
Website: vistaremodeling.com
Address: 6300 E Hampden Ave C224, Denver, CO 80222
Phone: (720) 434-9121
Vista Remodeling, LLC is a full-service remodeling contractor. They are available to help with basements, but can also help with kitchen, bathroom, floor installation, and granite installation projects. Vista Remodeling has been around for quite some time (the company was founded in 1999) and has continued to build a stellar reputation in the Denver area with a growing portfolio of exceptional work. 
3) Basements & Beyond
Website: basementsandbeyond.com
Address: 921 Santa Fe Dr, Denver, CO 80204
Phone: (303) 595-0901
Basements & Beyond takes great pride in offering integrity based communication, professional construction services, and continuous process improvement. The company has been around since 1994 and has completed over 1,200 projects since then. With every project that passes, Basements & Beyond continues to amass positive feedback from happy clients. It's clear that B&B goes above and beyond to deliver exceptional basements. 
4) Level B Inc
Website: levelbinc.com
Address: 820 S Monaco Pkwy. #270 Denver, CO. 80224
Phone: (720) 689-2589
Level B Inc specializes in basement finishing and proudly offers exceptional design, superior craftsmanship, and individual attention with each project. If your someone who enjoys doing some house work, Level B Inc also offers unique DIY basement finishing options. They can do all of the heavy lifting with the framing, electrical work, plumbing, etc. so that you can enjoy the more exciting aspects of basement remodeling. 
5) The Basement Finishers LLC
Website: thebasementfinishersllc.com
Address: 191 University Blvd Ste 487 Denver, CO 80206-4613
Phone: (303) 377-3884
The Basement Finishers LLC has been making dream basements a reality since 2003. They are a full-service home improvement contractor, but they specialize in basement finishing. They have been a longstanding member of Team Dave Logan. Their prices are very competitive and they vow to beat the pricing of any licensed competitor offering comparable materials and scope of work. With an A+ BBB rating, a 5-star rating on Google, and a portfolio of happy clients, The Basement Finishers LLC  are contractors you can trust. 
6) Elkstone Basements 
Website: elkstonebasements.com
Address: 17174 Knollside Ave Parker, CO 80134
Phone: (303) 656-9006
The Basement remodels that Elkstone Basements produces are absolutely stunning. There's a reason they have over 80 five star reviews on Google. Elkstone Basements has a unique and proprietary system for basement remodeling that yields exceptional results. 
7) DCH Construction, LLC
Website: dchconstructionllc.com
Address: 7208 South Tucson Way, Englewood, Colorado 80112, United States
Phone: (720) 609-2970
DCH Construction is one of the oldest and longest running companies on the list. DCH has been remodeling and finishing basements for over 50 years. The company is veteran and family owned and takes great pride in finishing basements with quality materials and fine craftsmanship. A business this old wouldn't have survived without happy clients and they've produced a long list over the years. 
8) Colorado Custom Basements & Remodeling
Website: coloradocustombasements.com
Address: 5690 South Parfet Street Littleton, CO 80127
Phone: (303) 523-0165
As the name suggests, Colorado Custom Basements & Remodeling specializes in producing custom basement solutions uniquely tailored to your space and needs. They know that finishing a basement isn't just a task on your checklist. Finishing a basement means adding an entirely new level to your home that you should be able to enjoy. Not only are projects custom-tailored to meet your needs, but they are also completed in an affordable manner. Unique spaces and affordable prices create the perfect recipe for satisfied clients. 
9) 3R Services Basement Finishing & Remodeling
Website: 3rservicesdenver.com
Address: 10825 West 32nd Avenue Wheat Ridge, CO 80033
Phone: (303) 359-4268
When you work with 3R Services, you get the time and individual attention you'd expect from working with a small business combined with the quality and precision you'd expect from a larger contractor. 3R Services has been finishing and remodeling basements in the Denver area since 2001 and a reputation for producing beautiful basements and happy clients. 
10) Kruse Construction LLC
Website: basementsofdenver.com
Address: PO Box 151308 Lakewood, CO 80215-9308
Phone: (303) 955-2969
Kruse Construction LLC has been servicing Denver homes since 1998. The company is family-owned, takes great pride in their work, and delivers beautiful basements at competitive and honest prices. Satisfaction is guaranteed when you choose to work with Kruse Construction.