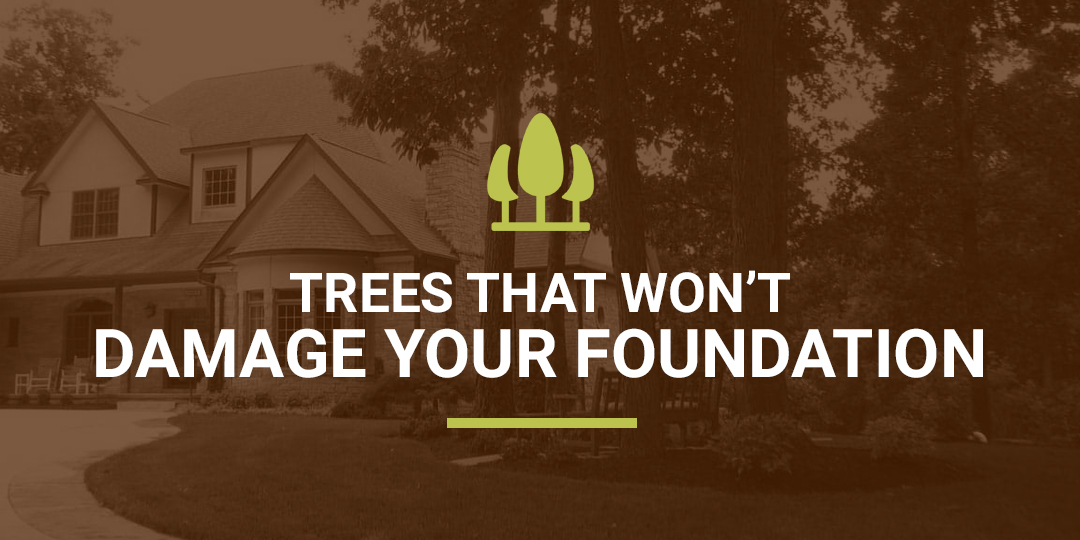 Trees deliver a lot of benefits to homeowners. They're natural air purifiers: a single tree can remove 10lbs of pollutants like ozone, ammonia, and sulfur dioxide per year. When they surround the property, they can also: 
Reduce noise pollution

Act as a privacy screen even on the busiest street

Decrease your energy bill by protecting the home from cold air currents during winter and creating shade from the heat in summer. 

Add soothing natural touches to an urban environment
Tree Roots Can Damage Your Foundation
Although the majority of foundations are strong enough to resist damage by encroaching tree roots, trees can still remove enough moisture from the soil to cause severe subsidence (ground movement), which could lead to foundation issues.
Perhaps you're thinking about planting trees around your home but don't want to risk future problems, or you have bought a new home that's already surrounded by trees and want to make sure that their roots won't negatively affect the soil and cause the foundation walls to crack. Below is an overview of trees that won't damage your foundation, followed by a list of those you should definitely avoid or consider removing.
Trees That Will Not Damage Your Foundation
Ornamental trees are an excellent option for homeowners who want to be surrounded by beautiful greenery without risking invasive roots. They don't grow too tall, so they are easy to maintain and some species can even be grown in decorative planters so that their roots remain under control. Examples of such trees include:
Various species of crabapple:

These short, flowering trees mature at around 20 feet tall and don't have an aggressive root system.

Pine trees:

Pines have practically no impact on your foundation because their roots extend straight down into the soil.

Japanese maple:

This beautiful and popular scarlet-colored tree is frequently planted near patios and along curbsides because their roots are non-invasive.

Flowering dogwood:

With its showy clusters of white flowers, flowering dogwoods can turn your front lawn into a showpiece without risking foundation damage.

American holly:

Like pine trees, American holly trees are popular and attractive evergreens that are low-maintenance and won't affect the soil or your foundation wall.
If you prefer shade trees, there are varieties available with thick, lush foliage and smaller root systems. They include:
Amur maple:

A low-height shade tree that turns fiery red in the fall, the Amur maple's root system is comparatively small. 

Trident maple:

Attractive and slow-growing, trident maples are frequently planted near patios.

Chinese pistache:

The Chinese pistache is often planted as a street tree due to its orange, red, sometimes yellow fall colors. Both tree and roots grow at a moderate rate.

Southern sugar maple:

The Southern sugar maple is one of the shorter-spreading maples. It has clusters of hanging flowers and brilliant fall coloration. 
Talk to a professional landscaper about which trees will make the best choices for your landscaping goals while presenting little to no risk to your home's foundation. They will also recommend where to plant these trees: some can be placed closer to the property than others.
Trees That Shouldn't Be Planted Near Your Foundation
Trees with long, lateral roots are known for being invasive. They can grow under your home's structure and push it upward, causing the foundation to heave. They will also rob the surrounding soil of moisture, resulting in ground movement and foundation damage.
Examples of such trees include:
Silver maple:

This tree is popular because of its bright, shimmery leaves, but its roots often end up growing above the ground, creating a trip hazard.

White ash:

A fast-growing tree with lateral invasive roots, white ash are notorious for causing future foundation problems.

American elm:

A full, leafy tree with shallow roots known to damage lawns, sidewalks, and driveways in addition to foundations.

Weeping willow:

This large shade tree's graceful and drooping branches are relaxing to look at or sit under, but its roots commonly invade sewer lines and foundations.

Oak:

This sturdy and beloved tree species is a leading cause of foundation damage.

Poplar:

Like the weeping willow, poplar trees have aggressive roots that cause sewer and foundational damage.

 
What If Your Foundation Is Damaged?
If you've noticed cracks in your foundation walls and can't or don't want to remove nearby trees, your only option is to barricade them. Tree root barriers control root growth near your foundation, which help avoid further settlement. 
A foundation repair specialist can review your existing landscape to help you determine whether root barrier installation can help correct the problem. They will also inspect your home for other signs of foundation damage, such drywall cracks, uneven floors, water in the basement, and sticking doors and windows, and recommend appropriate correction measures.
Contact a Foundation Repair Specialist Today
If you've noticed foundation damage and suspect that tree roots are involved, contact Van Matre Construction for a detailed inspection, honest assessment, and no-obligation estimate. Our team of experienced professionals can offer a variety of repair options, from helical piers and carbon fiber repair to wall anchors and push piers.
 Van Matre Construction, LLC serves homeowners in and around Denver, Boulder, and Lafayette. To schedule a free foundation inspection and repair estimate, please call 303-668-2222 or contact us online.