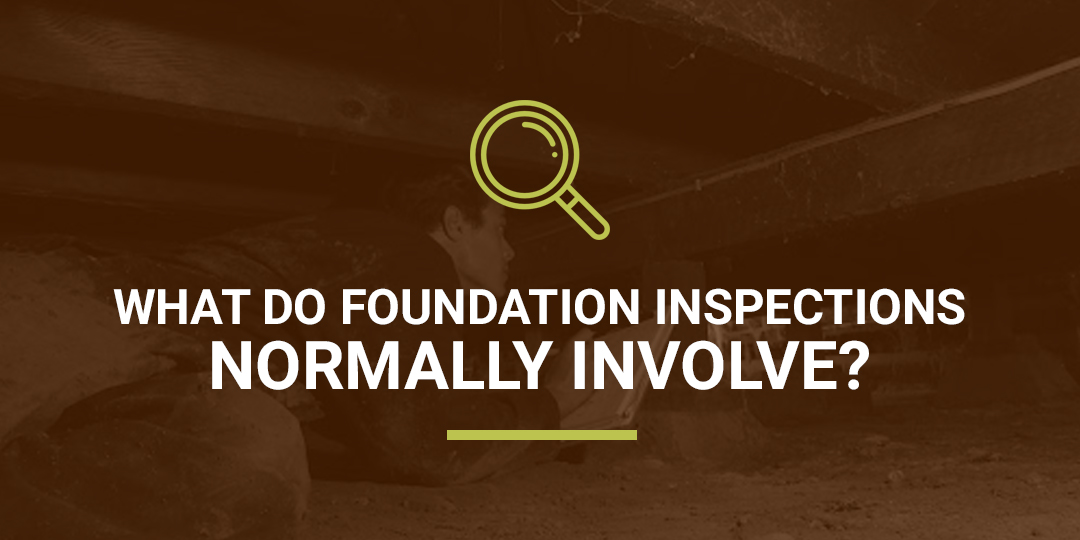 If your home's foundation was improperly designed or is starting to deteriorate, it can threaten the structural integrity of the property, diminish its value, and even pose a safety risk to your family. Fortunately, a thorough house foundation inspection by a qualified and experienced foundation repair specialist can detect these issues and prevent repair costs from becoming astronomical. In this blog, we'll go over the common signs that you need a foundation inspection and what that inspection involves.
What are common signs of foundation issues?
Houses do settle over time, causing minor vertical foundation cracks due to concrete tension. However, extensive horizontal cracking, heavy moisture, and uneven floors are all signs that your foundation requires reinforcement or repair. If you notice any of the issues below, call a professional inspector who will investigate the cause and recommend a solution.
Cracks: As stated previously, small vertical cracks are normal, especially during the first few years after construction. Those that are bigger than 1/4" and/or run horizontally are signs that pressure is being applied to the foundation and, left unchecked, can cause water seepage.
Foundation upheaval: Bulging or sagging floors, sticky doors, and windows that won't close properly are all indicators of foundation upheaval. Common causes include excessive moisture from recent rains, soil expansion or contraction, and plumbing leaks under the slab.
Mold: Although it can be caused by condensation from appliances, mold in your basement is a common sign of a leaky foundation. When water seeps in, it creates a damp and humid environment where mold can develop and spread.
What's involved in a house foundation inspection?
When the inspector arrives at your home, there will be a conversation about issues you've noticed that could be foundation-related. After that, the foundation inspection process typically starts with a thorough evaluation of the home's exterior, which includes:
Measuring the foundation elevations to determine whether it is out of level and, if so, by how much.
Looking for cracks in the slab, brick veneer, fascia boards, and other parts of your home exterior.
Checking for the proximity of large trees, as their roots can seek out under-slab moisture during dry spells, making it necessary to install root barriers.
The inspector will also go inside the house and look for signs that the foundation has moved, shifted, or otherwise started failing. Examples of such activity include:
Cracks in the walls, around doors and windows, and in the ceilings
Windows or doors that are out of alignment, causing sticking and binding
Shifted or buckled flooring
Moldings that have separated from the walls
If piers and beams were used to build your home, the inspector will check the crawl space to see if the piers, beams, and joists are damp or rotted. Any signs of dampness usually point toward a plumbing issue or foundation drainage problem.
When evaluating the foundation's structure, the inspector will look at the footers to verify that they are the proper depth, project the correct distance from the walls, and that the walls are centered on these footers. They will also:
Examine the foundation walls to confirm that they are made from suitable material and appropriately thick for the soil surrounding them.
Confirm that the concrete reinforcements and anchor bolts have been installed correctly.
Verify that cement, a waterproofing membrane, or bituminous waterproofing material have been applied in areas where there is significant risk of water infiltration. If these measures were taken, the inspector will look for evidence of possible failure, such as mold or water damage.
Check the foundation walls for adequate venting. The International Residential Code requires that every 150 square feet of your floor area have one square foot of vent area. There must also be a vent within three feet of each corner of the home.
Once the inspection has been completed, the foundation inspector will discuss their findings with you, recommend whether repairs are needed, and provide you with a detailed estimate and turnaround time, so you can make an informed decision before proceeding.
Contact a foundation repair specialist today
Regardless of the specific issues with your foundation, they should be corrected immediately, before their condition worsens. At Van Matre Construction, LLC, we will take the measures needed to permanently stabilize your foundation, preserving the value of your home and keeping your loved ones safe. Our foundation repair services include:
We have been a trusted provider of foundation repair and maintenance services to homeowners in Denver, Boulder, and Lafayette since 2001. To schedule a foundation inspection and a free, no-obligation estimate, please call 303-668-2222 or contact us online.