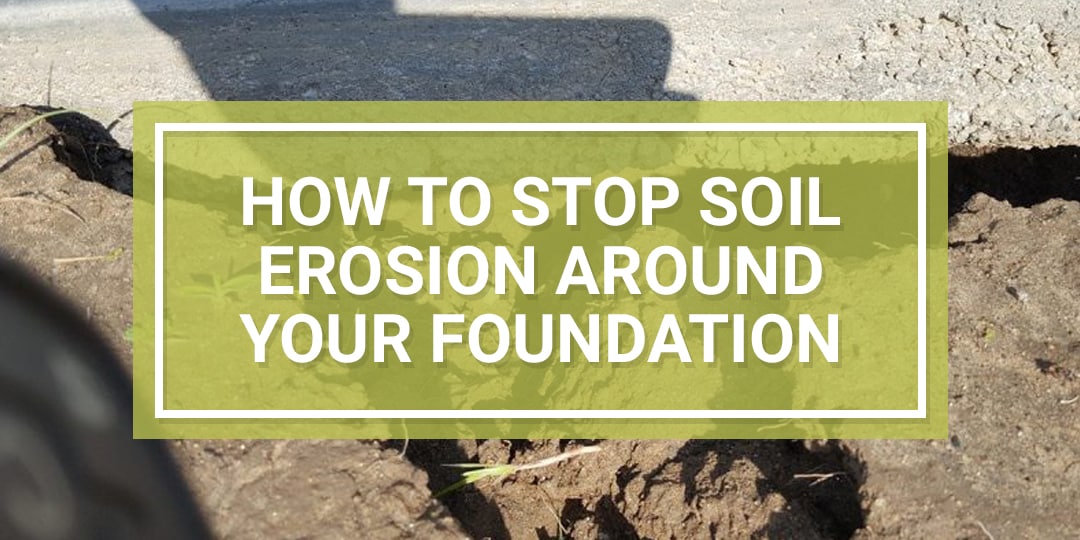 Your home rests on its foundation, which is why issues like soil erosion can affect the structural integrity of the entire property. Once the foundation shifts, a ripple effect can travel up through the walls, spread across ceilings and the roof, and damage critical systems like plumbing and electricity. 
At Van Matre Construction, we often get questions from homeowners about how to stop soil erosion around their foundation. In this blog, we'll review what soil erosion is, common causes, and how a foundation specialist can help you prevent it from making your home unstable and unsafe.
What is Soil Erosion?
When soil erodes, it draws away from your foundation walls. In Colorado, the main cause is running water. As the soil erodes, water can pool by the foundation instead, increasing the risk of the following problems.
Water ingress:

When water collects against the foundation, it can gradually get into your basement or crawl space through any cracks created by soil movement or substandard construction. Soon you will notice dampness, mold, a musty odor, or water pooling on the floor.
Increased pressure:

As water accumulates, it applies pressure to the foundation walls. That pressure disappears when the water dries, but the ongoing back-and-forth movement can cause the foundation to shift and crack, which allows rainwater into the basement during the next rainfall or flood.
Foundation settling:

A damaged foundation can settle. If that happens, you may notice cracking in the walls and outside brickwork, uneven floors, and sticking doors and windows. 
Moisture damage:

If water gets through your foundation, it can travel through the walls to the upper floors and destroy flooring, baseboards, and the walls. If the carpet feels damp and spongy when you walk on it and the wallpaper starts peeling, call a foundation repair company immediately.
How Can You Stop Soil Erosion Around Your Foundation?
There's an old saying that goes, "An ounce of prevention is better than a pound of cure." This is especially the case with soil erosion problems. The best way to protect your foundation is to prevent soil erosion from occurring in the first place. We recommend the measures outlined below.
1. Install a Surface or French Drain
Surface drains and French drains are common and effective solutions to drainage issues.  The main difference between the two systems is that surface drains are designed to clear away water pooling on your lawn's surface while French drains handle water that's seeped below ground level.
If the soil around your home is prone to oversaturation after heavy rainfalls, a French drain can clear away excess water so that it doesn't damage the foundation walls or get under your slab foundation and cause heaving. A surface drain may be the better choice if your lawn slopes toward the foundation and water always accumulates during rainy weather, as they can clear away large volumes of water in a short amount of time.
2. Correct the Foundation Grading
Does the soil around the foundation have sufficient slope to prevent water from collecting against the wall? A good rule of thumb is a ground slope of 3% to 5% for the first 10 feet surrounding the property. If your property layout doesn't support this recommendation
On top of the abovementioned tips, you also need to ensure that the soil around your home has a proper slope. Experts recommend that the ground around your home has a 3% to 5% slope for the first 10 feet. If your foundation doesn't meet this requirement, make any necessary landscaping adjustments. If that's not possible, your option include:
Crawl space encapsulation:

Applying a tight seal to your crawl space to prevent moisture penetration.
Applying a draining system:

Digging a French or surface drain to draw water away from the house.
3. Installing Gutters and Downspouts
Putting in gutters and downspouts can prevent soil erosion and water damage to your foundation by moving water to a disposal area positioned at a safe distance away. Ideally, downspouts should be least five to 10 feet from the foundation walls, although exact distance will depend on the type and condition of the soil. A foundation repair contractor can advise you accordingly.
4. Adjust Your Landscaping
There are some landscaping and gardening measures you can take to prevent or minimize the risk of soil erosion. Plants can improve soil firmness by holding it in position with their roots, thereby preventing loss. Cultivate gardens and trees strategically around the property but with trees in particular, you'll want to make sure that you don't plant them too close to the foundation, as growing roots can cause damage. Our blog presents a list of tree species that are known to be 'foundation-friendly.'
5. Keep All Drainage Systems in Good Condition
Make sure that all of your drainage systems remain in good condition. If you have a gutter and downspout system, inspect them after a heavy downpour and remove any dirt and debris that could cause clogging. Do the same if you have drainage systems in place. You want to make sure that any water flows away from the area of the foundation so that erosion doesn't have a chance to set in.
Contact an Experienced Foundation Repair Specialist in Colorado Today
Being proactive is the best way to prevent soil erosion around your foundation, but if it happens, you should act quickly. Moisture ingress, cracked walls, and other outcomes can all damage the value of the property, cause a health and safety hazard for your loved ones, and leave you with a huge repair bill.
At Van Matre Construction, we can help you deal with an erosion issue by installing French or surface drains. We will also thoroughly inspect your foundation and provide you with a free, no-obligation estimate for any necessary repairs, which may include helical piers, push piers, or carbon fiber wall supports. As soon as you realize that you have a soil erosion problem, please call 303-668-2222 or contact us online.