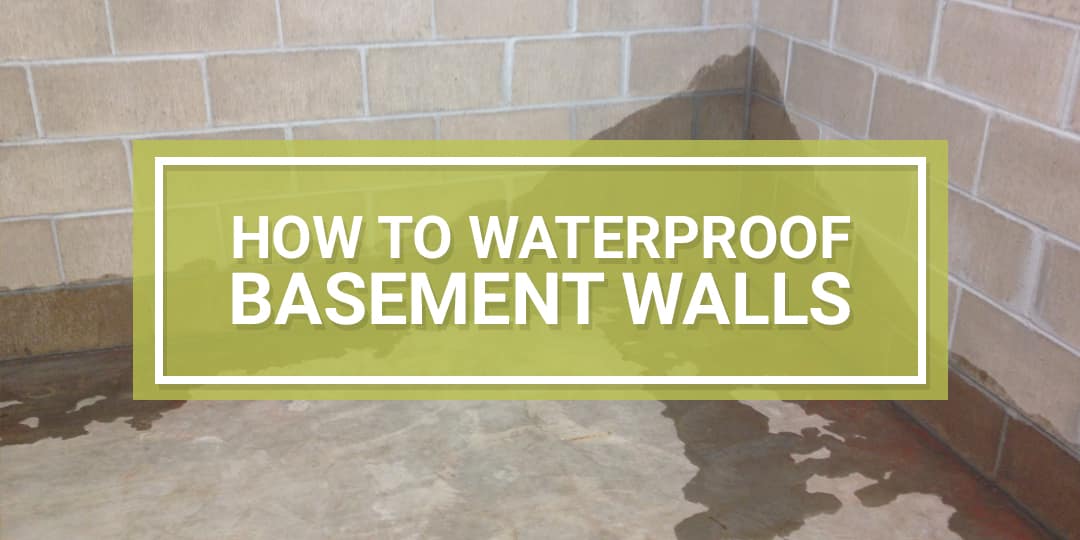 If you're a homeowner, few things are worse than finding moisture in your basement. Even a small puddle can lead to serious issues like toxic mold and structural damage, so how can you deal with the problem now and prevent it from happening again? 
In this blog, the team at Van Matre Construction will outline common causes of basement moisture and how a Denver area basement waterproofing contractor can help.
What Causes Basement Moisture?
Basements are below ground level. Water weighs approximately 60lbs per cubic foot, so when the soil outside your basement wall becomes too wet, the hydrostatic pressure can widen any cracks or crevices and allow water to infiltrate. 
Below is an overview of other situations where basement moisture can become an issue.
Improper Drainage Systems
Poor drainage is one of the most common causes of basement moisture. If groundwater and rainwater can't drain away properly, they will accumulate around your foundation and come inside through any available opening.
Clogged Gutters
Gutters are designed to direct rainwater away from the foundation walls. If they are too clogged to function, water will collect around the foundation instead of flow away from it.
Improper Sloping
If the ground around your foundation slopes toward your home instead of away from it, water will accumulate around the walls. 
Cracks in the Basement Walls
Any cracks in the basement walls will allow water to flow inside. Even smaller fissures will expand under the force of hydrostatic pressure and enable increasing volumes of water to get into your basement.
Three Ways to Waterproof Your Basement Walls
If you've seen dampness and water in your basement, you can opt for interior waterproofing, exterior waterproofing, or a professionally-installed drainage system.
Interior Waterproofing
Interior waterproofing keeps water out of your home from the inside. Your options include:
Using special sealants to fill any cracks so that more moisture can't get into the basement. A qualified

Denver basement repair contractor

will use sealants that come with extended warranties, ensuring their effectiveness. In addition, all caulking around basement windows and doors should be airtight.

Applying a waterproof sealant to the walls and floors to create a moisture-proof barrierthis is how we waterproof your basement walls. Our Denver experts choose this approach because it also prevents condensation by keeping humidity levels down. An experienced contractor will spray or trowel a heavy coat of an asphalt-modified polyurethane material, which serves as an elastomeric membrane. The key benefit of this method is that it can move and flex to accommodate if new cracks occur, keeping your basement dry.
It is important to remember that interior waterproofing alone is not a permanent solution. The moisture and condensation you see in your basement are usually due to an issue that originates outside the foundation walls. You may want to combine interior and exterior waterproofing to achieve best results.
Exterior Waterproofing
Exterior waterproofing methods in Denver are designed to keep water from your foundation walls so that it doesn't have the chance to seep inside. They include:
Applying a polymer-based waterproof sealant around the exterior walls. While this approach is labor-intensive and requires the soil around your foundation to be moved back, it should be effective for the remaining life of the home.

Unclogging the gutters. A properly installed gutter system will direct rainwater away from the home, but if an installation error causes it to drain too close to the foundation or it becomes clogged with debris, the system won't work properly. Clean your gutters regularly and call a professional if the downspouts aren't directing water away from the property.
While exterior waterproofing your Denver home can prevent moisture from getting in, it makes sense to take a closer look at why there is so much water pressing against your foundation walls. If you live in an area where heavy rains are common, or the soil gets oversaturated easily, you may want to look at installing a draining system to deal with water accumulation.
Drainage Systems
Drainage problems are a leading cause of basement moisture. If the ground around your Denver home's foundation slopes toward the walls, it may be necessary to install a sump pump in the center of your concrete flooring to collect incoming water and pump it away. Otherwise, you can have a surface or French drain installed to draw away excess moisture.
Surface drains

, which consist of a metal grating and flexible PVC pipe, are meant to quickly move away large volumes of water, which is why they are often installed on showers, driveways, and other sloped surfaces. If your area has regular problems with heavy rainfall and flooding, a surface drain will clear the water away before it can collect against the foundation wall.

French drains

remove excess water from your garden and the area under your foundation so that it doesn't get under the basement floor. If the soil surrounding the property is prone to oversaturation, a French drain will clear away any trapped water. They are installed by digging a trench, laying a perforated PVC pipe with a permeable wrap, and covering it with gravel.
What About Waterproof Paint?
Waterproof paint is inexpensive and easy to apply. Once dried, it coats your walls with a barrier that's supposed to keep out moisture and water.
While some waterproof paints will penetrate the pores of your basement wall, they are merely a coating and do not make their way deep enough into the walls to keep water from coming inside. Over time, efflorescence can build up beneath the surface of the paint, causing it to blister and peel, so they're generally not appropriate for waterproofing basement walls.
Which Method is Right for You?
Every home is different. The measures that keep your neighbor's basement dry may not work for you, and vice-versa. While the best policy is always prevention instead of repair, an older home or one with faulty construction materials can have moisture issues that call for professional intervention. A reputable contractor will recommend the right protection strategy for your basement.
Schedule a Foundation Inspection Today
Your home is one of the biggest investments you will ever make. Let Van Matre Construction help you prevent basement moisture problems that can harm the structure and even cause health problems for your family. To schedule a free, no-obligation estimate, reach out to our competent and experienced team at 303-668-2222 or contact us online.