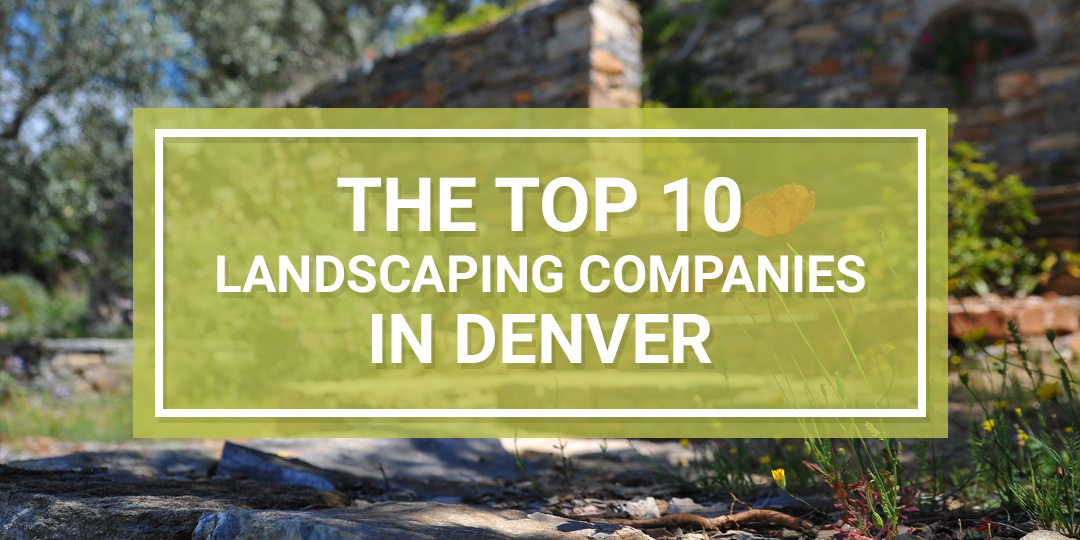 Being one of the first things guests see, most homeowners know there is value to a well landscaped yard. However, you may not realize just how valuable a professionally landscaped yard really is. If designed properly, a landscaped yard can help manage stormwater, provide windbreaks, reduce heating costs, and instill tranquility.
At Van Matre Construction, LLC, we realize the importance of good landscaping. Afterall, we've witnessed plenty of situations where placing the wrong trees too close to the house has severely damaged foundations. We've worked on homes with magnificent landscaping and we've worked on homes with landscaping that wasn't so magnificent. We've taken our experiences and combined them with the experiences of clients to create a list of the top 10 landscaping companies in the Denver area.
Why Work With A Landscaping Company?
Landscaping might seem like a house project worth DIYing, but it is usually less expensive and less time consuming to work with a professional company. If you're looking to completely redesign your lawn or add a fairly large new feature, you could spend hours just learning how to perform the work. Depending on the stores available in your area, you may end up having to visit multiple stores to gather the materials needed. Moreover, if you buy the wrong materials or perform the work incorrectly, you'll have to spend hours and tens or hundreds of dollars correcting and repairing your landscape.
When you work with a professional landscaping company, you'll be working with professionals who know the required landscape codes and laws in your area inside and out. They have processes in place and the experience required to be able to perform landscaping work efficiently and effectively so that you save both time and money. Even hiring professionals for something as simple as routine lawn care maintenance could save you a lot of time in the long run, which could be better allocated doing the things you love most. There's no doubt that having a reliable landscape company to work with makes all the difference in your home's appearance. If you're interested in getting quotes from a local landscaping company in Denver, we've compiled a list of our top 10 picks below.
Our Top 10 Landscaping Companies In Denver, CO
1) Highlands Landscaping
Website: highlandslandscaping.com
Address: 5895 W 56th Ave, Arvada, CO 80002
Phone: (720) 884-6378
Highlands Landscaping has built an incredibly strong reputation in the Denver area for providing expert advice and quality work at very fair prices. The company is both locally owned and family run with a great emphasis placed on customer service. When you work with Highlands, they will not only perform the work, but also provide training after completion to teach you how to get the most out of your landscaping investment.
2) Clean Air Lawn Care
Website: cleanairlawncaredenver.com
Address: 774 Dahlia St, Denver, CO 80220
Phone: (303) 681-4543
As the name implies, Clean Air Lawn Care aims to service your lawn in a clean and sustainable way. The lawn mowers are solar-powered and the treatment plans are all organic. If working with green eco-friendly companies is important to you, then Clean Air Lawn Care is the company to work with. The rates are very competitive and they've got a long list of happy customers. Clean Air is definitely worth checking out.
3) Wild Irishman Tree & Landscape
Website: denverlandscapedesign.net
Address: 2833 Utica Street, Denver, CO 80212
Phone: (303) 233-1302
Wild Irishman Tree & Landscape was built on three very important pillars: honesty, integrity, and commitment. The company is so transparent that they actually include their own SWOT analysis on their website. Wild Irishman has been serving the Denver area since 1999. They've got a portfolio of excellent work to show and a long list of happy clients.
4) Lifescape Colorado
Website: lifescapecolorado.com
Address: 455 S Platte River Dr, Denver, CO 80223
Phone: (303) 831-8310
Lifescape Colorado is a company known for excellence. Lifescape has put a lot of time and care into streamlining their planning and execution, innovating within the industry, and performing work with sustainability in mind. The Lifescape team has earned more than 50 industry awards and accolades and many clients have provided glowing reviews.
5) Mile High Landscaping
Website: milehighlandscaping.com
Address: 1125 Depew Ct, Denver, CO 80214
Phone: (303) 595-0404
Mile High Landscaping aims to transform everyday scenery into something extraordinary. The firm is family-owned and a great emphasis is placed on providing an exceptional experience with you and your needs at the heart of it all. Mile High was awarded two Best of houzz awards for both service and design in 2019. A large amount of effort and time goes into each landscaping project and it shows.
6) JS Landscaping
Website: jslandscapingllc.com
Address: Denver, CO
Phone: (303) 269-9343
JS Landscaping has been providing affordable landscaping solutions to the Denver area for over ten years. JS Landscaping takes great pride in being able to offer exceptional work with superior customer service. The JS team is very detail oriented and provides constant communication and feedback throughout each project. The quality of their work is well reflected in the overwhelmingly positive feedback received from past clients.
7) Denver Lawn & Landscape
Website: denverlawnlandscape.com
Address: Denver, CO
Phone: (720) 415-5251
Denver Lawn & Landscape (DLL) offers both landscaping and irrigation services. DLL recognizes that your landscape is like the welcome mat to your home. Therefore, a lot of care and effort is put into making sure you're completely satisfied with the work provided. DLL offers very affordable and professional work and clients have had very good things to say.
8) Absolute Home & Garden
Website: absolutehomegarden.com
Address: 2110 Market St, Denver, CO 80205
Phone: (720) 336-9627
When you work with Absolute Home & Garden, you'll be treated like family. The work is custom-tailored to meet the needs of each homeowner and the Absolute Home & Garden team will combine their expertise with your opinions and tastes to create a landscape your neighbors will envy.
9) City Floral Landscaping
Website: cityflorallandscaping.com
Address: 1440 Kearney St, Denver, CO 80220
Phone: (720) 981-1136
City Floral Garden Center is a longstanding business within the Denver Community. They've been around for over 100 years and they have a landscaping division. The landscaping team is full of very talented professionals with a depth and range of horticultural and construction experience. City Floral provides excellent work and their commitment to quality is well reflected in their client reviews.
10) Phase One Landscapes
Website: phaseonelandscapes.com
Address: 2310 S. Syracuse Way, Denver, CO 80231
Phone: (303) 750-6060
Phase One Landscapes has been serving the Denver area for over 30 years. In that time, they've accumulated an impressive number of awards along with a large portfolio of stunning work and a list of very happy clients. Phase One Landscapes has a very streamlined and straightforward process that makes them extremely easy to work with. Their commitment to quality and their customer-first approach is something they've earned an outstanding reputation for.