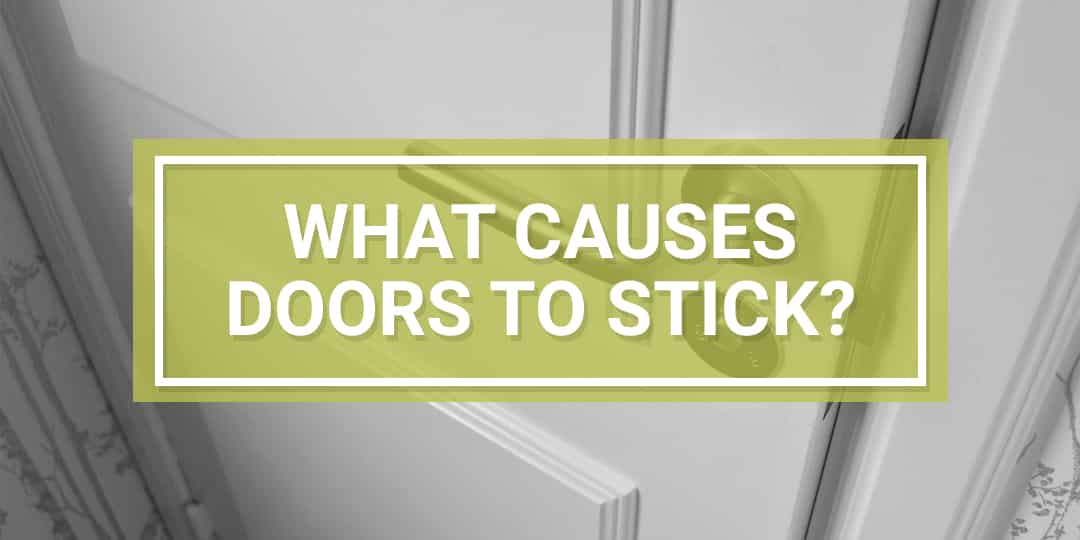 You've noticed that the doors in your home are sticking. If it only happened with the bathroom, you might be inclined to dismiss the problem as post-shower humidity, but when you're struggling to open and close doors throughout the house, you'll definitely want to investigate the cause.
What causes doors to stick in my Denver home? There are several conditions that can cause your doors to stick. In this blog, the foundation repair team at Van Matre Construction reviews this common problem, which should always be assessed by a professional. 
Normal Wear and Tear
We put our doors through a lot over the years: opening and closing them constantly, slamming them, and even swinging on them if you have kids in the house. As time passes, a door can become misaligned and pop its screws or have a hinge break.
Fortunately, this issue is a pretty easy fix. If the misalignment isn't too extreme, you can pick up some replacement screws or hinges from your local hardware store and reposition the door squarely within the frame. If the wood has splintered from all the activity and pressure, it may be better to simply replace the door entirely.
Weather Changes
Although Colorado's climate is more on the dry side, we can still get some pretty humid days during the summer months. When a rainstorm is especially intense, it can also cause humidity levels to swell. In either case, the moisture in the air may lead to swelling in wooden fixtures like doors and windows, resulting in sticking and difficulty opening and closing. You'll know that this is the issue when the air dries and the wood condenses, letting the doors move normally once more.
To prevent swelling from humidity, you could use a dehumidifier. A longer lasting solution would be refinishing your doors. You'll want to use a few coats of an oil-based wood finish. One area to focus on would be the bottom of each door, which is often poorly finished in most manufacturing processes. 
Shifting Foundation
What is still causing my doors to stick? If your Denver home's foundation shifts, it can throw your doors out of alignment. While it's normal for a property to settle over time, such movement rarely interferes with door operation. If this issue is accompanied by any of the following problems, you should arrange for a thorough foundation inspection to assess the stability of the home.
Uneven floors:

When a foundation shifts, the floor joists and beams can warp and bend, resulting in

sagging or heaving floors

.

Cracked floor tiles:

Although they look fragile, tiles don't break easily. If you

notice cracking

, especially in multiple places, something may be going on at the foundation level.

Moisture in the basement:

Cracks in the basement walls can lead to moisture ingress, resulting in mold and mildew.

Horizontal wall cracks:

If there are horizontal or zig-zag cracks in the interior or exterior walls of the home, it means that there has been foundation movement that's intense enough to damage the structure. Contact a reliable and experienced

foundation repair contractor

immediately.
Problems with your foundation should never be ignored. They won't go away and will actually get worse over time. If your doors won't stop sticking and you've noticed any of the above conditions, protect your family and preserve the value of your property by arranging for an inspection and foundation issue repair in Denver.
Contact an Experienced Foundation Repair Specialist in Colorado Today
If you're dealing with a sticky door issue that can't be solved by repairs, replacement, or moisture evaporation, let Van Matre Construction carry out a thorough foundation inspection and provide you with a free estimate for any recommended foundation issue repairs or restoration measures in Denver. 
Depending on the extent of the damage and condition of the surrounding soil, we can install helical piers, set up wall anchors or carbon fiber wall supports, or dig drains that ensure proper elimination of excess moisture.  For more information on what is causing my doors to stick in my Denver home or to schedule a no-obligation consultation, please call 303-668-2222 or contact us online. Van Matre Construction has been providing homeowners in and around Denver, Boulder, Lafayette, and Broomfield with prompt and professional foundation work since 2001. We treat your home as if it were our own and we look forward to serving you.