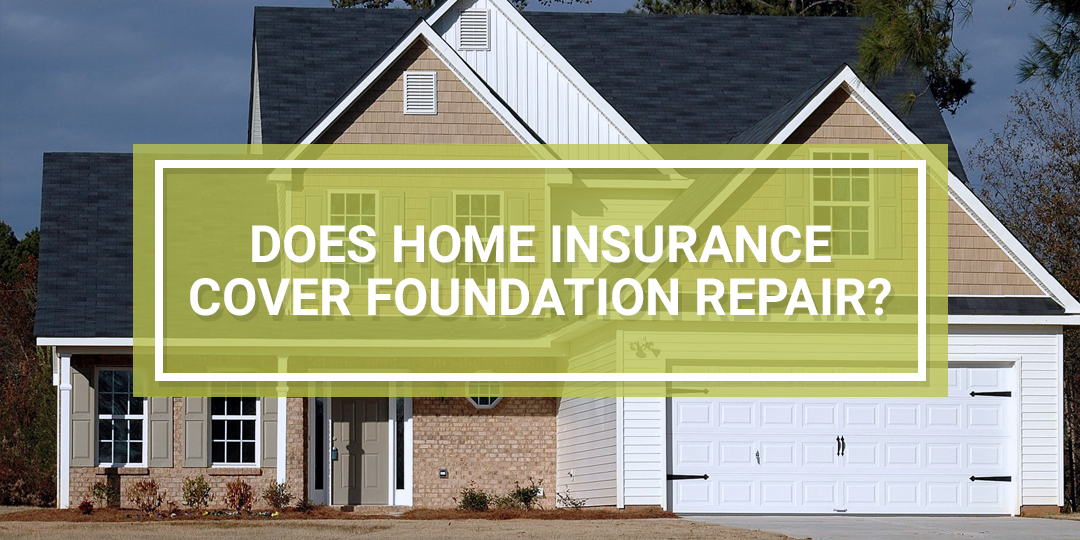 When you took out homeowners insurance, the purpose was likely to protect your home from catastrophic events like vandalism, floods, and fires. You may not have been thinking about foundation issues at the time, but now that you've noticed some cracks in your walls and the basement has an unpleasant musty odor, you're wondering if your policy will cover repairs. 
In this blog, the team at Van Matre Construction, LLC identifies common foundation issues, their causes, and when they may -or may not- be covered by your homeowner's insurance.
Common Sources of Foundation Problems
In most cases, water is the primary cause of foundation damage. When moisture accumulates, it can cause the soil under and around your foundation to shrink or swell, resulting in foundation movements and even cracking. This moisture collection could be due to floods, poor drainage around the house exterior, or plumbing leaks below the home.
Depending on where you live, other threats to the integrity of your foundation include:
Earthquakes

Droughts

Tree roots pressing against the walls 
Regardless of the cause, you'll know that you have foundation issues when you spot any of the following:
Sagging floors

Misaligned doors and windows

Moisture in your basement or crawl space
Does your homeowner's insurance cover any necessary repairs? Possibly, but it depends on the cause and whether that condition is listed as covered in your policy.
When Does Homeowners Insurance Cover Foundation Repair?
Most homeowners insurance policies cover the structure of your home from sudden and accidental damage. For example, if an earthquake leaves the foundation with cracks that create a moisture problem and it's a listed peril on the policy, your insurance company will pay for repairs up to the coverage limits. Other losses that are typically covered include damage due to:
Vandalism

Fire

Lightning

Windstorms, tornados, or hurricanes

The weight of snow or ice accumulation

Impact from a motor vehicle or airplane

Immediate and unexpected water damage, like a flood

Plumbing malfunctions
It probably will not cover repairs for issues like: 
Normal wear and tear

Leaks due to water buildup or tree root pressure
These problems are considered part of routine maintenance, which is why you should regularly check your foundation for signs of shifting or cracking. Depending on the cause, soil movement and pressure-related damage may be controlled by:
Installing a

surface or French drain

. Surface drains are recommended if you regularly experience flooding, as they remove large volumes of water in a short amount of time. French drains are best for dealing with oversaturated soil (for example, puddles appear on your lawn every time it rains).

Preventing tree roots from pushing against the foundation wall by installing root barriers or

planting trees that aren't known to cause foundation damage

.

Making sure that the downspouts on your gutter deposit water at least five feet away from the foundation.

Watering the soil around the foundation during droughts.
Unfortunately, unless your foundation issues can be conclusively traced to covered events or defects, your homeowners insurance won't pay for repairs. We recommend that you reach out to a local foundation specialist who can: 
Install

helical piers

,

push piers

,

micropiles

, and other solutions that repair damage and prevent further deterioration. 

Install drainage systems that prevent oversaturated soil from applying pressure to the foundation walls.

Set up a regular inspection and maintenance schedule so that minor problems are addressed before they can threaten the structure of your home.
Contact a Colorado foundation repair specialist today
Settlement, cracking, and other types of foundation damage can affect the value of your home and make it potentially unsafe to live in, which is why it's important to be proactive. When you call a professional sooner, before the damage spreads, the problem can be corrected more quickly and at a lower cost.
At Van Matre Construction, LLC, we have the skills and experience to carry out all necessary repairs and restore stability to your foundation. We will complete a thorough inspection, give you an honest overview of the repairs needed, and provide a no-obligation estimate. For more information or to schedule an in-depth inspection, please call 303-668-2222 or contact us online.